No Timer or To-Do List Ever Helped Kick My Procrastination — But This One Habit Does
We independently select these products—if you buy from one of our links, we may earn a commission. All prices were accurate at the time of publishing.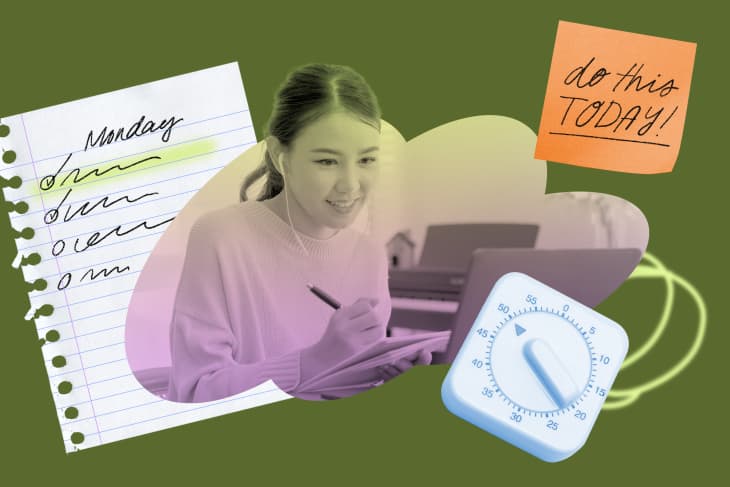 It takes me three songs to walk to the bus stop from my house, or about 10 minutes. My Sunday chores — changing my sheets, cleaning my bathroom — feel manageable only when I remind myself that they're just five songs long. And finally unpacking my rucksack after a month of it sitting in the corner of my room took only half a song to finish. Sure, I love music, but I didn't realize until a few years ago that I have been relying on it for much more than easy listening — I use it to work, to sleep, to exist.
For as long as I can remember, I've put things off until the last minute. I had always chalked up my anxiety about starting and finishing tasks to procrastination, a word I have used to generously blame myself. It took me a long time to articulate that I find it difficult to estimate and manage my time because I struggle with avoidance and prioritizing my goals. "Feelings of overwhelm associated with the task at hand can lead to procrastination or spending an excessive amount of time on a task," says licensed clinical psychologist Dr. Heather Stevenson. It may arise from struggles with perfectionism, a desire to "get it right," or a fear of rejection or judgment related to the outcome. 
According to licensed clinical psychologist Dr. Annia Raja, it can be challenging to accurately estimate how long a task will take when you're feeling anxious. "This can lead to overcommitting, overestimating your abilities, and ultimately falling behind schedule," she says. "And [it] can cause indecision and analysis paralysis, which eats up even more valuable time."
While navigating my struggles with anxiety and restlessness, I've often wondered why it takes me hours, weeks even, to complete a task that others can finish in minutes. Throughout the years, I've tried all kinds of common productivity hacks. I make to-do lists when I can remember, and try to break big tasks into smaller ones to complete over a week. The problem is following through or getting stuck at the final stretch, like actually writing the article after I've finished interviewing people, or packing my travel bag after I've organized everything. I dislike planners, so I have a bunch of to-do lists written across my diary, my desktop, my phone's Notes app, in an email draft, in Evernote, and in Google Keep.
I've even tried time-tracking apps, especially for the Pomodoro Technique, but I've found that for me a five-minute break for every 25 minutes of work is more distracting than helpful. Alarms trigger my anxiety and I'd rather work without interruption for as long as my work flow and attention span allow.
Instead, I've found a paper-free method that helps me track my time and actually get things done. When doing a task, I listen to music and measure my progress using songs I like — my version of the temptation bundling method. Instead of setting a timer, I use the duration of songs to keep me on track. For my non-writing chores like laundry, dusting, emails, or research, I listen to fast-paced, upbeat songs, as I'm more conscious of the time spent on each task when I sing along. I frequently listen to my favorite songs on a loop, and last week I completed about a week's worth of emails and research while listening to the same song for four hours. I'll also set myself a "deadline" for tasks where I'm prone to mind-wandering and spacing out, like washing my hair. I aim to finish my hair-and-body shower routine within four songs, or about 15 minutes.
Raja points out that instrumental music helps to create a pleasant, low-arousal environment that can promote a state of relaxation and calm. It would explain why I prefer original soundtracks from movies and TV, slower tempos, and pop ballads to put me in the writing zone. A few of my favorites are works of Hans Zimmer and Ludovico Einaudi, the title themes of "His Dark Materials" by Lorne Balfe, and "Westworld" by Ramin Djawadi, a rearrangement of BTS' "Black Swan" by Shin Myungsoo, and an orchestral cover of BTS' "Love Yourself" Highlight Reel by MDP (composed by Shin Myungsoo).
As transformative as music is for me in tracking my time, it's not an instant to-do list annihilator and it doesn't work every single day. As I write this, I'm disheartened because today I was unproductive. But I've struggled with my mental health for long enough to know to be gentle with myself. Today, I'm telling myself that I'm doing my best, and tomorrow I'll cue up a new song.