3 Unexpected Ways Pet Owners Can Keep a Cleaner House
Brian and Tanika have always loved dogs, and both had four-legged best friends when they were children. Their problem is that, even though they're dog people, they'd prefer that people couldn't tell by looking at them, by seeing the dog hair on their pant legs, sofa cushions, or anywhere, frankly. That's tough at the moment, because their new pup, Tanzie, has a serious shedding problem. (Which is totally offset by adorably floppy ears, soulful brown eyes, and the list keeps going, but still...)
---
"Our puppy is the cutest, but we both hate trying to get fur out of everything though because it's tough and constant." —Tanika and Brian
---
They don't have a yard, so Tanzie plays indoors a lot, rolling around on their carpet instead of on the grass. Brian and Tanika are concerned that their place might start to smell like a kennel if they're not careful, so they'd like some quick tips for keeping things fresh and clean. (They also have a turtle, who doesn't seem to be contributing to The Shedding Problem). This doesn't scare Nora the Apartment Therapist, who has a few simple tricks for them.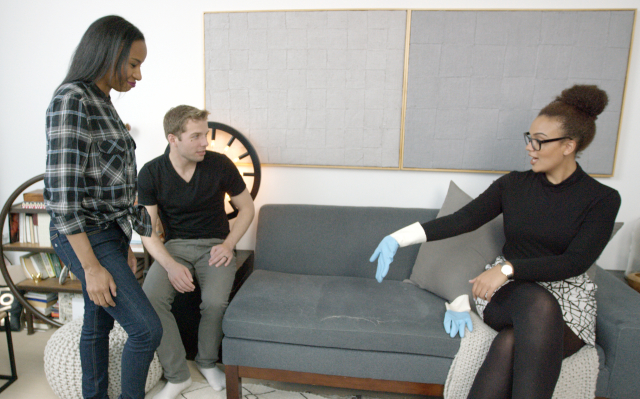 (Image credit: Rebecca Blumhagen)
1. Remove pet hair with a rubber glove

Regardless of what kind of animal is putting the fur in your furniture (see what we did there?) all you need is a rubber cleaning or dishwashing glove to get it off. Slip your hand into the glove, then rub the side of your hand across your pillows, cushions, or other problem areas. The rubber attracts the hair so you can more easily remove it from fabric surfaces.
(Image credit: Rebecca Blumhagen)
2. Use baking soda to remove carpet odors

If you're worried about the freshness of your floor coverings, sprinkle some Arm & Hammer™ Baking Soda onto the carpet and the rugs. Let it sit for 15 minutes or so, then vacuum it up. Smell that? No? That's right.
(Image credit: Rebecca Blumhagen)
3. Use "the sock trick" to clean blinds

For those hard-to-dust mini-blinds, slide your hand into a sock and dip it into a solution that is 50 percent water, 50 percent vinegar. With your hand still in the sock, make a "puppet mouth" (you know exactly what we're talking about) and then "bite" the blinds between your fingers and thumb, sliding your hand from one side to the other. When you're finished, feel free to tell Mister Tubey that he did a fantastic job.
---
"Pets can get a bad rap. Yes, their cleaning issues are unique, but if you know how to manage them the mess won't get that bad. Even your hairbrush." —Nora, Apartment Therapist
---

More episodes of The Messy Truth >>
This post is sponsored by Arm & Hammer™ Baking Soda and was created by Apartment Therapy's Creative Studio.
Thank you for supporting the brands that make Apartment Therapy possible.
Apartment Therapy supports our readers with carefully chosen product recommendations to improve life at home. You support us through our independently chosen links, many of which earn us a commission.