The Five-Star Collection Your Bathroom Deserves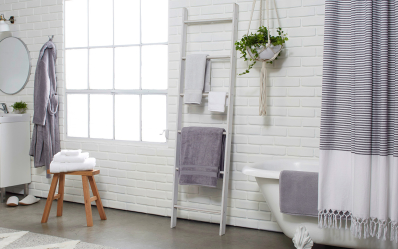 (Image credit: Parachute)
Have you ever stayed in a hotel and noticed that everything in the bathroom just felt so much better? I'm talking towels the size of bed sheets and softer than silk. Buttery tub mats and bath rugs that your feet melt right into. Bathrobes that would bring a whole new meaning to lazy Sunday. Well it's high time to bring that luxe treatment to your own bathroom.
(Image credit: Parachute)
Parachute, the Venice Beach–based startup that once upon a time perfected the bed sheet, just launched an expanded bath collection. Luscious tub mats, decadent bath rugs, and sophisticated shower curtains are joining their winning collection of bath towels, hand towels, and bathrobes to make a complete line of bathroom bliss. I happily tried them all and can personally attest: It was the best at-home-after-bath experience I've ever had. But why?
The truth is, high-quality bath accessories feel better because they are better, and it all comes down to the quality of the cotton. Luckily, there are just two simple things to look out for when assessing the quality of textiles for the bathroom: cotton weight and fiber.
(Image credit: Parachute)
Cotton Weight
Grams per square meter (GSM) is the bathroom equivalent of the thread count we're used to looking at when buying sheets. Basically, the higher the GSM, the more luxe the bath towel/sheet/rug/robe. Here's a basic breakdown:
200 – 400 GSM: the see-through towels your high school gym provided.
400 – 600 GSM: the beach towel you bought on college spring break.
600 – 800 GSM: that one time you stayed at the Ritz and realized no other towel would ever be the same.
800+ GSM: your cashmere sweater is going to be jealous.
So how do Parachute's products stack up? Their tub mats and bath rugs weigh in at a lusher-than-lush 1200 GSM! (In case, like me, you were wondering: Parachute's tub mats are designed to go right in front of the tub, whereas bath rugs are slightly larger and feature a nubbier cotton loop for placement anywhere in the bathroom.) Out of the package, both felt decidedly heavy for their size, which translated into an extra warm landing pad for toes and superior absorption once in use.
The bath sheets and hand towels are a slightly more sensible 700 GSM — they're still super soft and absorbent but will dry a bit faster than denser weaves. The new shower curtains are designed with dry-ability in mind (after all, you won't be wrapping yourself up in them...although the one I tried was soft enough to be used as a blanket) and come in at just 180–220 GSM for a lighter look and feel.
Another thing I noticed: Despite their density, Parachute's towels were noticeably fluffier than my current (high quality) ones. Apparently, the secret is something called Aerocotton technology — a spinning process that results in extra long yarns and more surface area. This accounts for the fluffy feel, while also letting the cloth absorb moisture more quickly than most.
(Image credit: Parachute)
Cotton Fiber
Pima, Egyptian, Turkish...you've probably heard of these cotton types before. They all have their unique traits, but Turkish cotton is especially sought-after for its extra long fibers, ability to dry quickly, and its soft touch. (Also worth noting: Turks invented towels in the first place, so there's that.)
All of Parachute's bath products are loomed with 100% Turkish cotton, which (combined with their special spinning process) gives them their signature soft feel. You may also notice that new Turkish shower curtain is an ode to the pestemal, those traditional flat-woven striped towels with a fringe finish that are definitely the It girl of the towel world right now.
All-in, Parachute's bath line was a definite upgrade: Shower time felt a little more like spa time at home, or at least like staying at a five-star hotel. I also liked that the products were made without synthetic softeners and certified to be environmentally-friendly. Also a plus: the newest additions to their product line make Parachute a one-stop shop for bath textile upgrades.
Visit Parachute to check out all the newest additions to their bath collection.

This post is sponsored by Parachute and was created by the Apartment Therapy Creative Studio.
Thank you for supporting the brands that make Apartment Therapy possible.
Apartment Therapy supports our readers with carefully chosen product recommendations to improve life at home. You support us through our independently chosen links, many of which earn us a commission.