A Quick Intro to Modern Mid-Century (That's Not a Typo)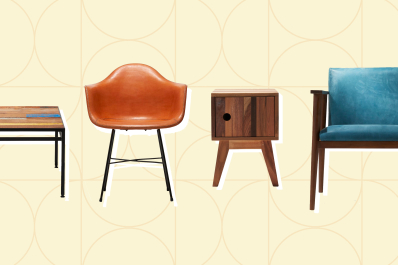 (Image credit: Industry West)
Mid-century modern is the Coco Chanel of design—timeless and trend-proof—but that doesn't mean it can't take an update. Right now, we're loving looks that bring the Eames era into the 21st century. Think simple lines and sleek shapes that complement modern life. With the right pieces, you can turn mid-century modern into modern mid-century—a 2.0 take that you can make your own.
(Image credit: Industry West)
The key to modern mid-century is keeping all the elegant beauty of the original and tweaking it for today. (Translation: Your home isn't a museum.) Industry West strikes the perfect balance. Their collaborations with Karpenter and Sol&Luna meld MCM's classic aesthetic with the textures, art and style that make up modern life.
Pieces like the Copenhagen chairs above—inspired by the classic Scandinavian furniture of the 1950s and '60s—have gentle angles and palettes that provide soft pops of color. Far from looking too sharp or serious, they have a light, uncluttered feel. The teakwood has been reclaimed from old buildings and structures, which adds an organic touch that's very this-moment.
(Image credit: Industry West)
Here's to a more modern happy hour: Hovy rethinks seating with simple lines, like the Hovy Bar Stool, above right, with a minimalist shape and supple leather from Sol&Luna, a renowned Spanish manufacturer that hand-makes its products using an ecologically sustainable tanning process, resulting in one-of-a-kind pieces.
(Image credit: Industry West)
One of the best things about the OG MCM is that it's just so vibrant. Industry West's Bauhaus pieces channel those feel-good vibes—and today's penchant for raw, industrial style—with golden reclaimed teakwood brought to fresh new life. (Industry West receives it with the original nails and paint!) Not just fun, this is furniture that also tells a story.
Just like the original, modern mid-century is all about iconic investment pieces (hello, tax return!) that last a lifetime—no matter how many other trends come and go.
Shop Industry West's full selection of modern mid-century chairs, sofas, tables and more.
This post is sponsored by Industry West.
Thank you for supporting the brands that make Apartment Therapy possible.