Ariel and Dillon's "Newlybed" Bedroom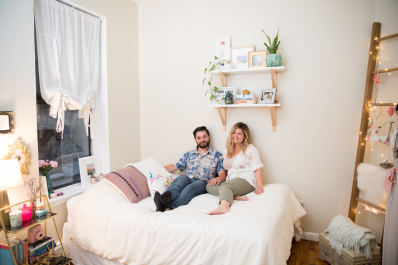 (Image credit: Ana Gambuto)
After five years of long-distance, New Yorkers Ariel and Dillon are co-habitating for the first time. The couple is always on the move, whether they're shopping Brooklyn farmers' markets on the weekends or escaping the city for slow weekends on the Jersey Shore. And life is about to get even more hectic: They're moving!
While it's sure to add some stress, they see the move as a great chance to make a space that feels like home to them both — especially when it comes to the bedroom.
Ariel's colorful boho aesthetic reigns supreme in the couple's current apartment, which was originally hers. In their new digs, she and Dillon have a chance to fashion a space that suits both their styles, which will likely become a bit more mid-century and incorporate a bit more of Dillon. (She has plans for a DIY gift for him, but wouldn't tell us what that is.) In the bedroom, their priority will be to create a soothing retreat from busy city life, starting with a mattress upgrade so that the two of them can stop squeezing and start sleeping well!
Enter the mattress pros at Serta®, who are committed helping Americans declare peace from their crazed schedules and savor the sanctuary that is the bedroom. For Ariel and Dillon, that means a queen-sized Serta Perfect Sleeper® Hybrid Devron Luxury Firm. Designed to help solve five of the most common sleep problems — including pushy partners and sleeping too hot or too cold — the Perfect Sleeper is a dreamy choice for couples.
So, we're giving Ariel and Dillon a new mattress to declare peace in their new bedroom. We'll send them their mattress, give them some time to sleep on it (and also to move!), and check in with them on July 20 to see what's changed.
(Image credit: Ana Gambuto)
Make your own declaration at declarepeace.com, where you can share how you reclaimed your bedroom and find the Serta solution that's perfect for your serene sanctuary!
Declare peace in your bedroom!
---
Check in with Ariel and Dillon on July 20 to see how a better mattress gets them better sleep and more peace.
---
This post is sponsored by Serta and was created by Apartment Therapy's Creative Studio.
Thank you for supporting the brands that make Apartment Therapy possible.