Before & After: A Beautiful Bathroom Makeover in Just 1 Weekend
It's easy to overlook the bathroom. Renovations are expensive, and most of us will put up with a less-than-ideal space until we have the money for a makeover. Still, the lack of a renovation budget didn't stop Jenna. With a full-time job, two dogs, two kids, and another on the way, she's got more than enough to handle, but she and her husband knew they wanted a better bathroom before the baby arrived.
Rather than remodel, Jenna decided to work with what she had. With help from Apartment Therapy and the pros at Bed Bath & Beyond, we managed a total transformation — including a shower upgrade, new fixtures, a whole storage system, and a new color palette — all in a few projects you can totally do in a weekend.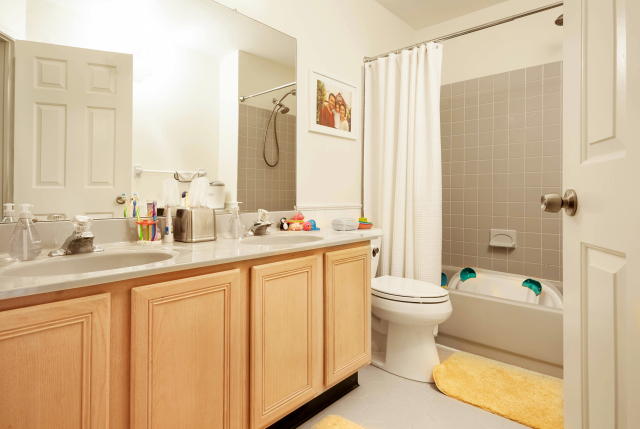 The Before
Describing the before, Jenna says, "This bathroom is the kids' bathroom, and it's just tired. I like the neutral colors because I've been able to disguise how old it is, but it's old. The shower/tub is old (and gray!) and the whitewash cabinets are ugly. It needs the works, but on a smaller scale."
The kids' bathroom also doubles as a guest bath, so Jenna had some unique challenges to tackle. The space needed to be family-friendly but stylish, too. It had to be practical but personal, and it needed easy-to-access storage.
The After
To achieve Jenna's next-level bathroom on a budget, the team focused on a few key elements: color, storage and organization, fixtures, and finishing touches.
A New (Blue) Wave

Jenna's personal style is pretty modern, but she wanted the design to be kid-friendly. The style also had to fit in with the existing bathroom features, like a pale grey bath and countertop and beadboard wainscoting on the walls.
Step 1 was a fresh coat of paint on the walls and cabinets - this part was easily the most time-consuming project we undertook, but it makes the space feel so much brighter and cleaner. Next, the bathroom got a whole new look with peel-and-stick vinyl wallpaper in a deep blue arrowhead pattern. Easy to install and even easier to wipe clean, it brings much-needed personality to the space.
The blue carries through in a new shower curtain, and super-soft bath rugs and towels. The shower curtain is a great find because it's hookless, so it pops on easily, and then the liner snaps off for quick cleaning. We also like how the mesh at the top allows light in while you're showering.
White sandstone accessories from the Composition Bath Collection complement the classic navy palette, while details like a jade plant, potted succulents and teak stool add a few natural elements.
Neat, Tidy & Ultra-Organized Storage
Under the sink, a stacking shelf, slide-out drawers and a revolving Lazy Susan-style shelf increase usable space and make access easy. We love how the mesh containers show off what's inside.
We also swapped out Jenna's old storage for a wall cabinet with baskets. This freed up precious floor space and holds towels and washcloths. Now there's room for that stool, which Jenna can perch on comfortably while giving the kids a bath.
Spa-Worthy Shower Upgrades
A new showerhead includes a handheld nozzle, a must-have for kids and adults alike. And the curved shower rod adds serious breadth to the shower, making it feel larger and airier. A shower caddy and tension-mounted corner caddies add extra space for bath products, and a bath caddy organizes all the kids' toys.
Perfectly Polished Details
Above the vanity, we swapped the large mirror for two smaller mirrors, a design trick that makes the space feel more personal and stylish. To elevate the area and make it a little more luxe, we added new faucets and a new light fixture. A chrome towel bar, towel ring and toilet tissue holder round out the understated contemporary look, and a glass shelf holds display items like family photos and a scented diffuser.
The Shopping List
Everything for this makeover came from our friends at Bed Bath & Beyond. We ended up mostly pulling Jenna's bathroom decor and accessories from the Traditional and Contemporary categories in Bed Bath & Beyond's bathroom section, but you can find the style that fits you best and use it as a guide for your own weekend bathroom makeover.
You can see a more in-depth look at the whole makeover – as well as some of the items we didn't use in Jenna's house – here. [LINK TK]
Shower & Tub
Bath Storage & Organization
Personal Touches

This post is sponsored by Bed Bath & Beyond and was created by Apartment Therapy's Creative Studio.
Thank you for supporting the brands that make Apartment Therapy possible.
Apartment Therapy supports our readers with carefully chosen product recommendations to improve life at home. You support us through our independently chosen links, many of which earn us a commission.