Before & After: Bright.Bazaar's Airy, Beachy Remodel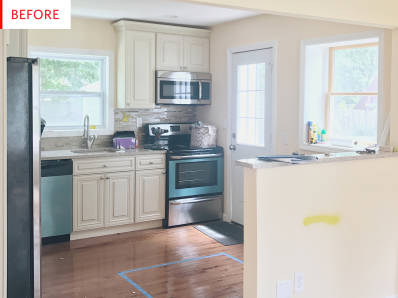 (Image credit: Will Taylor)
Will Taylor, the color-obsessed designer behind one of our favorite blogs, Bright.Bazaar, knows potential when he sees it. So when he and his husband, Toby, snapped up the property that would become their airy beach retreat in Bellport, NY, they already had a clear vision of the "make-you-smile style" renovations that would turn the house into their dream home.
Will and Toby found their house with the help of a real estate professional and Realtor®, a member of the National Association of Realtors®. He knew Bellport inside and out and gave the two expert advice about permitting and processes and helped them steer around snags (including a fireplace situation that almost went up in smoke—more on that in a second). He also leveraged his Rolodex, making the necessary introductions to get their projects rolling and keep them on track.
And yes, that's projects plural: Here are five of Will and Toby's fantastic before-and-afters...
From awkward kitchen to freestyle flow
With its weird pony wall and poorly positioned appliances, the existing kitchen in the Bright.Bazaar home wasn't bringing form or function. Their gut reno added both: flipping the locations of the fridge (its original position was a visual block) and stove (awkwardly nestled in the corner) opened up the space, and adding an island peninsula made the kitchen more sociable. As for form, the color grounds the whole open area, a sophisticated variation on classic beach house blue. A beautiful effect suitable for a self-proclaimed color fanatic.
Opening a dead-end alcove with stunning French doors
"We wanted to add a wow moment," Will says. Um, nailed it. By opening up the back of the house to create steel French doors, Will and Toby were able to add tons of natural light and increase indoor/outdoor livability. (Hello, summertime!) Will says all their guests comment on these made-in-Brooklyn beauties, but he also has an eye on how future buyers will see them. "It did occur to us," Will tells us, "that prospective buyers would be looking at them one day, and we wanted to create moments they'd think about on the drive home from their viewing."
From useless space to dreamy window seat
Since the bedroom dormer windows didn't have enough room for furniture, Will and Toby turned this quirky nook into a sunny seat perfectly sized for reading, getting ready, and other little domestic moments. Bonus: Underneath the pillow, a hinged lid reveals secret storage for the snuggly affects required for Northeast winters.
The fireplace that almost wasn't
Will and Toby had their hearts set on a cozy wood-burning fireplace that would make their beach house a year-round retreat—until they learned that building a chimney and keeping everything to code was going to cost more than $40,000! With the expert advice of their real estate professional and Realtor®, they ended up deciding on a gas fireplace instead. "Your expectations won't match reality," Will says. "In the end, we have a fireplace we love; it's just gas and not wood." And those tiles—swoon.
From boring to beachy hardwood floors
Swapping the existing hardwood for white oak boards brought in all kinds of beach vibes. The wood was milled in Europe and finished in Brooklyn by the woodworking firm Madera. Will and Toby also went for wider 7" planks, which add a subtle sense of spaciousness.
It was Will and Toby's intention from day one to buy a house and apply their kicky, colorful style to it. Going this route allowed them to make their home theirs, and also allowed them to search for houses at lower price points. They were quick to caution, however, that a big reno "will be more expensive and take twice as long as you think it will." Still, the final project was worth it to them. They expect to see a nice ROI down the road and will enjoy the happy, beachy, vibes until then.
Whether you're still searching or ready to renovate, a Realtor®—a member of the National Association of Realtors®—can help make your dream home a reality. Visit realtor.com/getrealtor to find your next home.
This post is sponsored by the National Association of Realtors® and was created by Apartment Therapy's Creative Studio. Realtors® are members of the National Association of Realtors®.
Thank you for supporting the brands that make Apartment Therapy possible.