Before & After: Hannah's Patio Gets Dinner-Party Ready
Hannah and George just moved in together, and when they were house-hunting, they knew they wanted outdoor space. They've found a home with an amazing, enclosed front patio, but they aren't sure how best to decorate it. It's a small space, and they want to be able to use it all the time – for everything from just hanging out to hosting full-on dinner parties. They also need to find furniture that is durable and practical, since it turns out that the gorgeous tree that shades the space sheds berries! No white cushions for these guys...
Inspired by their lovely blank canvas of an outdoor space, the Apartment Therapy team joined forces with Pier 1 to help Hannah and George create the outdoor room of their dreams.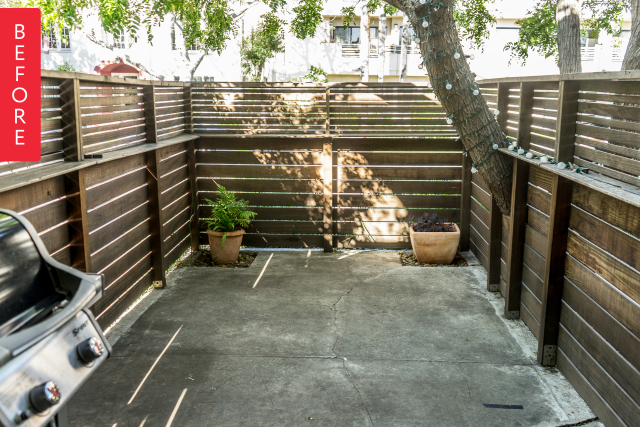 (Image credit: Demetrius Wren)
Our top tip for decorating an outdoor space is to treat it like another room in your home. Hannah and George's new dining area matches their style perfectly, with practical, washable cushions and rug designed for outdoor use. Vibrant details, like a mix of lanterns to accentuate that beautiful tree of theirs, help to define the space and make it their own.
(Image credit: Demetrius Wren)
The classic, clean lines of the white chairs and matching loveseat contrast beautifully with spice-red cushions, and offset a turquoise patterned rug. A round dining table might be a good, space-efficient alternative to the typical rectangular picnic table, as it was here. We love how Pier 1's outdoor dinnerware looks like regular indoor plates, proving that you don't have to sacrifice style for practicality. And bring on the berries! The stains won't show too much against the red cushions, and of course those are easy to clean anyway.
(Image credit: Demetrius Wren)
Hannah and George are already planning the dinner parties they'll be hosting in their elegant, stylish outdoor dining room!
(Image credit: Demetrius Wren)
Love this look? You can find it all at Pier 1. Here are some of the pieces we found for Hannah and George:
Ready to create your own stylish outdoor room? Shop Pier 1 Now!