Before & After: Madilynn's Tiny Balcony Becomes a Vibrant Extension
Madilynn loves the home she's created with her husband, Alan, and their baby, Cosette. But though she spends a lot of time there, working from home and hanging out with Cosette, she hasn't been able to figure out how to integrate their balcony into their everyday lives. A small, oddly-shaped space, it's hard to know how to furnish it in a way that works both for a toddler and her parents. Inspired by the challenge of a tiny balcony, the Apartment Therapy team joined forces with Pier 1 to help Madilynn and Alan create a colorful, vibrant outdoor space for the whole family to love.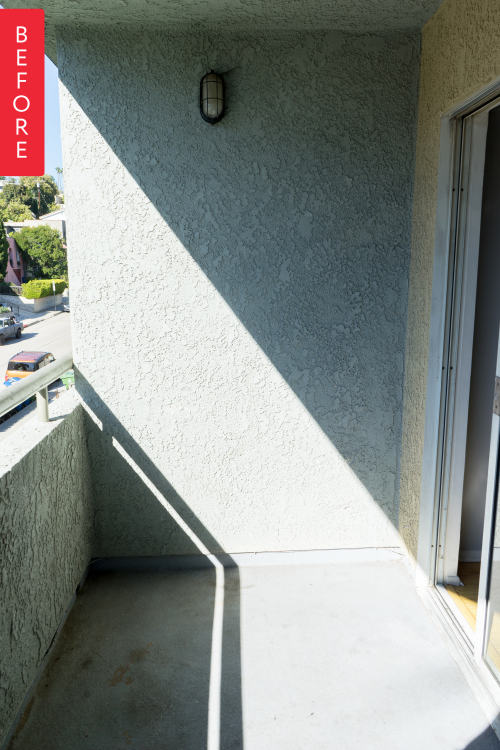 (Image credit: Demetrius Wren)
When working with a limited space, we like to measure carefully, plan the layout before purchasing anything, and, above all, find versatile pieces. Madilynn knew she wanted a place where she and Alan could eat dinner, but it was also important to have a comfy place to sit and watch Cosette play. Using small-scale furniture, we were able to include both a dining area and a hangout spot. Finding an area rug that fit the space perfectly was a great way to make it a softer, more forgiving spot for Cosette to play – not to mention adding a ton of character.
For versatility, we found great stacking chairs that could even be brought indoors for supplemental seating there. The 'dining table' is actually a garden stool, which can be either an occasional table or an extra seat. And the small accent tables are nesting, so they can be tucked away, as well, to maximize floor space.
(Image credit: Demetrius Wren)
And in any outdoor space, it's crucial to add the same personal touches that you would indoors. From wall art (specifically designed to be used outside) to battery-powered string lights, the accessories are part of what make the space – and what make a space your own.
Now that the balcony is fully furnished, Madilynn and her family can finally enjoy it as a colorful, happy extension of their home.
(Image credit: Demetrius Wren)
Love this look? You can find it all at Pier 1. Here are some of the pieces we found for Madilynn, Alan and Cosette:
Ready to create your own stylish outdoor room? Shop Pier 1 Now!