All of Blu Dot's One-of-a-Kind Modern Furniture Is 20% Off—Shop Before It's Too Late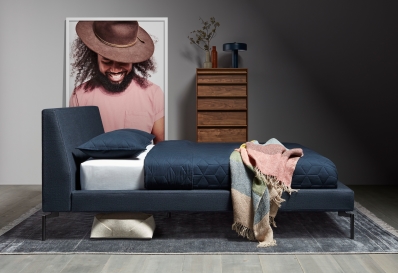 When it comes to beautiful, one-of-a-kind modern design, the only way you can do better than Blu Dot is Blu Dot on sale. For a few ephemeral weeks each year, they offer all of their punchy, modern designs at 20 percent off. But just like any hope of pre-planning your Halloween costume, it's all over by October 28th. So to save you a little time, I sifted through the sale for the best finds—take a look.
A Stylish Sleeper Sofa
Blu Dot excels at every kind of sofa, but especially sleepers. They've totally rethought the trusty sleeper sofa as something that can have a stylish, modern silhouette—form and function. Their Thataway Sleeper Sofa flips open to become a comfy 50"-long bed in one motion. You'll be saving a total of $400 here. (Puppies not included, sorry.)
This Low-Key Classic
Blu Dot's Perimeter Table Lamp has been on my radar for a few years now, and in its short lifespan it has already become a classic. When it launched, the design helped bring powder-coated steel back into style and it's now available in some very cool new colorways.
The Dreamiest Bed
The Nook Bed is a dream for anyone who likes to read in bed. The angled headboard creates a cozy nook that's great for nighttime reads, or just sleeping in. The twin-sized version is a really nice option for kids. I can't think of a better place to read "Goodnight Moon"for the thousandth time.
These Statement Chairs
If you're a total minimalist, here's your chance. Blu Dot's Hot Mesh chairs are on sale for $111.20. They would actually make amazing dining chairs, indoors or out. Or, a great little bedroom accent chair. P.S., they've started making the Hot Mesh in lots of kicky colors that transform a small accent into a big statement (this one is Simple Blue).
The Stash Desk
Yep, saved the best for last. The Stash Desk is the perfect little desk for anyone who really just needs a space to rest their laptop, plus a drawer to store the charger and maybe a notebook or two. What else do you need? It's the ideal setup for a productive day.
These are my best finds, but remember: Every single Blu Dot design is eligible for the sale, so click below to find your own.
Shop the entire Blu Dot collection at 20 percent off, but you'll want to hustle! This sale is over on October 28.
This post is sponsored by Blu Dot and was created by the Apartment Therapy Creative Studio.
Thank you for supporting the brands that make Apartment Therapy possible.