Consider This Your Official Guide to Custom Framing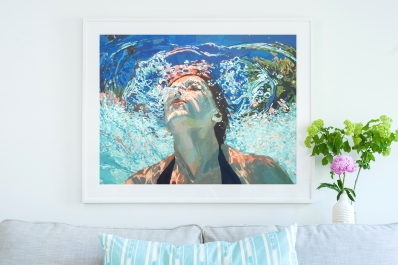 Forgotten photos, doodles, blueprints, love letters – it's quite possible that you've dug up plenty of frame-worthy candidates during your recent Spring Cleaning. We think that now is the time to pull these markers of your life out of the shoebox and off of your camera, and into a beautiful custom-made frame. Not sure which frame goes with which mat for that funky piece of art? Consider this your friendly custom framing manual.
Use promo code THERAPY for 15% off your first order!
To Mat or Not to Mat?
Ah, the age ol' question. Here's our rule of thumb: if something is important to you and you want it to look its very best, you need a mat. Done right, a mat can create a visual buffer between the art and the frame, allowing your treasured piece to stand on its own. Skip the mat when you're framing something that has a built-in border (like movie and concert posters) or when you have an oversized item that would look powerful bleeding right to the frame. Overwhelmed? Don't be. Here's a cheat sheet for some fool-proof mat and frame combinations.
Many framers charge extra for mats (and push you to order one). Luckily, that goes against the philosophy of our favorite custom framing experts at the awesome startup, Framebridge. These online framing gurus feel that if a piece of art calls for a mat, who are they to stand in its way? All with no additional fees.
Black & White
Special black-and-white photos aren't so special when you have to dig through your Facebook albums to see them. We suggest displaying these classic beauties with a frame that won't overwhelm the moment. Consider a more reserved frame as to not draw attention away from the details and subtleties of the piece. Classic silver or muted gold frames work well for traditional photographs. For more modern types, we'd opt for a simple, brushed silver or black gallery frame, which both look amazing with a white or off-white mat.
Gallery Wall
There's really only one rule: when assembling a gallery, simple frames work best. They guarantee that the focus is on the art and not on the frames. We recommend choosing a unifying element within your collected art pieces and finding corresponding frame styles. A wall comprised of light elements and dreamy pastels would definitely warrant lighter frames. And to achieve a more sophisticated look, we love a gallery with clean, black and white frames mixed with sleek metals.
Get framing to start your gallery wall now!
Document It
Diplomas, vintage maps, floorplans, certificates —it's time to finally (and properly) frame the important papers in our lives. To accentuate their more serious tone, avoid frames with bright colors. Instead, consider more traditional black frames with gold detail or thin antique silver frames which look stunning on crisp white walls. Not a traditionalist? We think a clean, natural wood frame would look fantastic in your modern space.
Bright Art Prints
Have something bold and bright to frame? Getting funkier frames like rippled gold, or adventurous wood frames like tigerwood can amplify the bright, funky vibe the art is giving off. Children's creations definitely fall into this category – don't confine those gems to the fridge. Non-traditional creations like letters to Santa, report cards, and finger paintings can all be elevated with a fun, affordable frame. So, honor that crayon doodle. It'll be a cherished family heirloom in no time.
Insta-Frame
With all of the easy-to-use photo filter apps now available, you don't have to be a trained photographer to turn even the dullest pic of your cappuccino foam into an instant java masterpiece. But some pics, like that epic Eiffel Tower selfie, are too good to remain digital. Our friends at Framebridge, the cool startup that makes custom framing super easy, allow you to directly upload a photo from your camera roll or Instagram, and have it beautifully framed at your door by the time you get home from your travels!
Start framing those 'grams! Get 15% off your first order with promo code: THERAPY!
Get Framing
Don't fret! We've found you the easiest and most affordable way to get your frame on: Framebridge. Simply choose from a variety of classic, clean or eclectic custom frames, preview it online, and either mail them the original piece or upload a digital copy of your art! Still not sure which frame is best? Their "Designer's Choice" option pairs you with an expert designer so you can make the right selection. And even with free shipping both ways, Framebridge is significantly cheaper than retail.
Visit Framebridge.com or download the Framebridge iPhone app to get started. And use promo code THERAPY for 15% off your first order!