Drew & Ceara's Hollywood Hills Home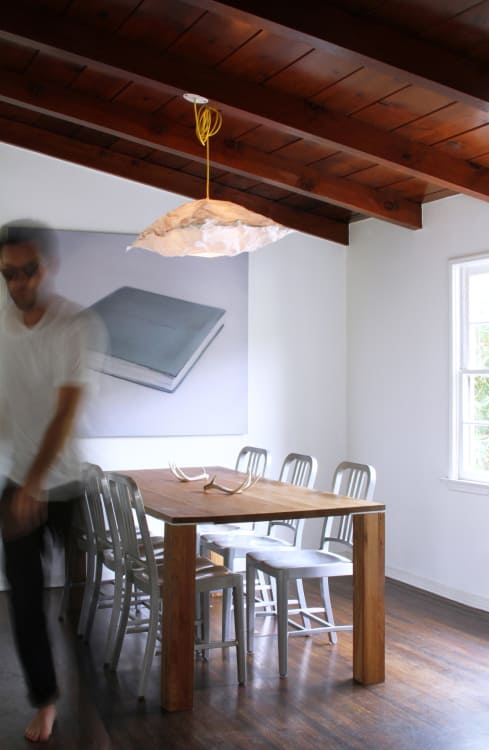 Name: Drew Fuller, actor, and Ceara McAuliffe, of Middle Sister General Vintage
Location: Hollywood Hills; Los Angeles, California
Size: 950 square feet
Years lived in: 1 1/2 years
Drew grew up at the beach in Orange Country and Ceara was raised in Venice, so they wanted their Hollywood Hills home design to have a connection to the coastal lifestyle. Another consideration for the design was the fact that their home is small, so they've opted for minimal furnishings to help make the space feel larger.
They completely lucked out when it came to decorating their new home — Ceara's father owns a contemporary art gallery, and her sister is an interior designer. The interiors are very relaxing and stylish, and then there's the backyard — just another perk of LA living. They like to sit on the two chairs up the hill and watch the sun set. Ceara is also working on her gardening skills, and of course the backyard is a great place for their dogs to run. The expansive outdoor space makes this small home seem so much more spacious.
Apartment Therapy Survey:
Our Style: We are both drawn to contemporary homes with clean lines, concrete, wood floors, big windows. and lots of light. Our taste in furniture has a casual California beach influence that offsets the austerity that some contemporary homes exude. For this house we wanted to keep the cabin vibe while still bringing in modern lines. We had to stretch our taste to fit this space. With a lot of guidance from our designer, Faye McAuliffe, we came up with a general style that incorporated our tastes while still fitting with the home.
Inspiration: The inspiration from our home actually came from a few key pieces that we bought early on. We wanted to emulate their casual but classic feel and bring it to the entire home. The dining room table and navy chairs and the statement chair in our living room were jumping off points for us. We were both born and raised by the beach in Los Angeles, so we wanted to keep a little California beach and surf feel.
Favorite Element: Our favorite element and what caught our attention when we first saw this house was how much the garden felt like it was a part of the home. The giant window in the living room and the five glass doors leading out make the house feel open, expansive, and bright. We love leaving all the doors and windows open, creating a perfect indoor/outdoor space. Our garden feels like part of the home. In fact, we eat most of our meals outside on the deck.
Biggest Challenge: Because we're renting, our biggest challenge was lightening up the space without restaining the dark wood floors or painting the dark ceilings. We got a seagrass rug for the living room and painted all the walls a fresh white. Besides our sofa, most furniture is light in color and feel.
What Friends Say: We have friends over to watch movies and basketball games, so most people comment on how comfortable our sofa is, and then they fall asleep on it.
Biggest Embarrassment:
Ceara - The kitchen was covered in old cracked pink tiles when we moved in. We were pretty quick to rip those out and replace them with butcher block counters, new shelves, and paint the whole thing white before we had any friends over for dinner.
Drew - The guest bedroom doubles as my girl's closet and somehow the bed has become the go-to place for all clothes not put away... and then some.
Proudest DIY: There was a light we fell in love with at a store that looked like a cloud and was around $600. We found a similar lamp shade at IKEA for $4.99, just to try out. With a little bit of crumpling and a new yellow cord, we did a damn good job emulating the other light.
Biggest Indulgence: Since we moved in with just a bed to start, we wanted each piece that we purchased to be special and timeless and be able to transition to any house we would move into, so every piece from the chair to the dresser felt like an indulgence. However, the biggest indulgence would probably be our sofa. We originally saw it at Shelter Half and purchased it from Environment. The downside was having no place to sit for 12 weeks while it was being made.
Best Advice: We had to learn the hard way that just because something is beautiful doesn't necessarily mean it is going to look beautiful in your home. Four rugs and two sofas later we finally found the right fit. Advice: Memo everything and sit with it for a while before you buy it.
Dream Sources: There are so many great websites and stores these days. Designer blogs are a big inspiration for us (Convoy, Emmas Designblogg, You Are the River). In Los Angeles, there is no shortage of cool stores to browse through. Some of our favorites are Shelter Half, Environment, and Lawson-Fenning.
Resources of Note:
PAINT & COLORS
All white everything. It makes the home look bigger and feel clean and open. In a perfect world we would use Farrow&Ball paint, but Home Depot paint works perfectly when one is on a budget!
LIVING ROOM
DINING ROOM
KITCHEN
Ikea butcher block countertops and floating shelves
Bowls/plates from Heath Ceramics
BEDROOM
GUEST BEDROOM
Art by Stephen G. Rhodes
Blanket from Heritage
Cowhide from Ikea
Side table from Kellygreen
Dresser from B&B Italia
Thanks, Drew & Ceara!
(Images: Marcia Prentice)
• HOUSE TOUR ARCHIVE: Check out past house tours here.
• Interested in sharing your home with Apartment Therapy? Contact the editors through our House Tour Submission Form.
• Are you a designer/architect/decorator interested in sharing a residential project with Apartment Therapy readers? Contact the editors through our Professional Submission Form.
Apartment Therapy supports our readers with carefully chosen product recommendations to improve life at home. You support us through our independently chosen links, many of which earn us a commission.