Fall Colors from Valspar Paint
Nature can be one of the best places to find color inspiration, and fall is is a great time to look for it. Rich reds, golden yellows, and deep greens are everywhere. Valspar Paint is ready to help you turn those inspirations into reality with five palettes for fall.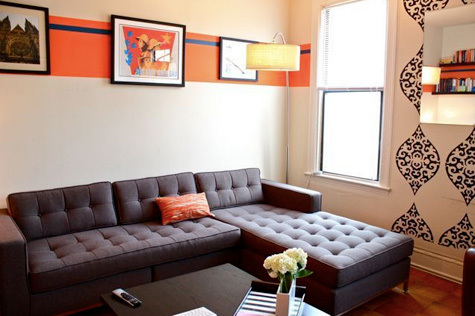 Bold Modern Style
A bright orange, used sparingly, brings just enough pop to enliven this mostly-neutral living room. The long, horizontal stripe on the wall keeps it looking clean.
• Island Orange 2010-2
• Pale Ivory WV31002
• Sable Evening 5006-2C
Green & Glamorous
Fall colors don't have to be warm. Inspired by the cloudy skies of November and the deep color of evergreens, this combination feels chic and sophisticated.
• Bright Parrot 6011-7
• Sea Salt Blue C1191
• Dove White 7002-7
Autumn Elegance
A classic Craftsman home looks great in natural colors like browns, reds, and greens. The leafy walls in this room provide a breath of fresh air above the dark, heavy paneling.
• Fired Earth 6011-1
• Spring Leaves 5008-68
• Autumn Fire 1007-1A
Amber Waves
Sometimes subtle colors are the most surprising. Set against dark gray and black accents, these amber walls really come to life.
• Amber Pearl 3006-3C
• Del Coronado Amber 3005-5B
• Olive Suede 6010-3
Warm & Welcoming
This palette feels crisp and clean, like a walk through the park as the leaves are turning. A cool gray brings just enough contrast to warm red and yellow.
• Golden Delight 3005 1-A
• Mark Twain House Ombre Gray 4004-2A
• Orange Maple 2010-5
Photos: Kristen Lubbe | Apartment Therapy, Jill Slater | Apartment Therapy, Evan Thomas | Apartment Therapy, Leah Moss | Apartment Therapy, Molly Anderson | Apartment Therapy