Four Easy Ways You Can Level Up Your Life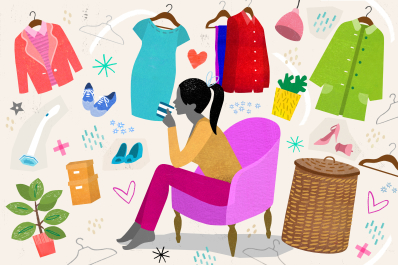 (Image credit: Jessie Ford)
We get it: A full-home cleaning is a big, exhausting project. But if you want to level up your life, you don't have to do it all at once. It's amazing what a difference little tweaks can make, tweaks like committing to a proper set of clothes hangers or setting up a bathroom that's easy to keep clean. Here are four low-investment fixes that will bring surprisingly high-yield results to our continual quest to uplevel our lives.
(Image credit: Jessie Ford)
No Wire Hangers
Your closet shouldn't look like a dry cleaner's recycling bin. Ditch those unruly wire hangers (cleaners will take them back for reuse) and replace them with something better and uniform, like a wooden or plastic tube set. Maybe the $0 price is right, but they really do a number on your clothes and make your closet a mess.
(Image credit: Jessie Ford)
It's Curtains for the Blinds
It's time to retire those Venetian blinds, the ones that are bent where you've opened them to watch for the pizza guy or to spy on your weird neighbors. There are better ways to dress up your windows, with valances, shades, or other cute window treatments that haven't been collecting dust for the past decade. (But if you don't ditch them, please dust them once in a while.)
(Image credit: Jessie Ford)
Break Up with the Brush
Is the only thing in your bathroom that's grosser than the toilet the brush you use to clean it? Ditch that disgusting thing for a Clorox® ToiletWand®, which cleans and disinfects for the kind of bathroom that you'd...well, you're never going to eat in there, but it's definitely an improvement. Once you see how it can transform your bathroom, you'll wonder why you hadn't already thrown that brush in the trash. Right on top of the wire hangers.
(Image credit: Jessie Ford)
Excavate the Chair
Remember when you had a chair in your bedroom? Like, an actual seating option that hadn't been devoured by a pile of dirty clothes? It's still there, and you could use it for something other than a modern art installation made entirely of leggings. Actually use your laundry hamper, and you get a functional piece of furniture, a semi-clean bedroom, and a way to lug it all to the washing machine, whether it's in another room or another building.
Find out how the ToiletWand levels up a bathroom and helps you make the most of your time.
This post is sponsored by Clorox® ToiletWand® and was created by the Apartment Therapy Creative Studio. Thank you for supporting the brands that make Apartment Therapy possible.