Here Are the Only Supplies You Really Need When You Paint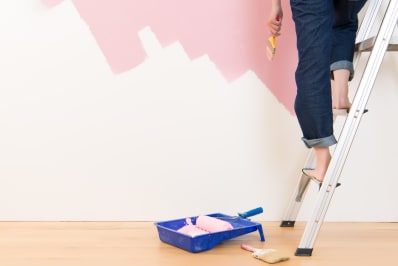 After a year of staring at the same white walls at work and going home to the same boring off-white shade, you've finally decided to start that long-overdue paint project. But it can be overwhelming, from the first trip down the paint aisle to...that point halfway down the aisle when you already feel like giving up.
Even if you're just trying to brighten up your cramped entryway, you might think you need a car trunk full of supplies, but that's not always the case. You can still get terrific results with just a few items, and if you don't already have some of them on-hand, the rest are reasonably inexpensive. (We're gonna work on the assumption that you already know you need paint.)
A ladder or step stool: That all-purpose stool you use to reach the Easter candy you hid in late April is fine, assuming that it's sturdy and allows you to reach the top of the wall, with or without a roller extension. (More on that in a sec.)
A dusting cloth or sponge: Before you pick up a brush or even a roll of tape, you'll want to wipe the walls and trim down, dusting it first and then going over the walls with a damp sponge.
A screwdriver: As a painter friend of mine puts it, "Don't be a dummy and try to paint around the outlet covers and switchplates. And don't be a bigger dummy and paint over them." You need to remove the switchplates and outlet covers first, then put a piece of tape over the outlets themselves. (Also, tape the screws to the back of each switchplate to save yourself a lot of profanity later.) Which brings us to...
Painter's tape: Yes, that blue stuff you're staring at right now. You're going to need it to tape off the trim (if you have it), around any window frames, and on the first couple of inches between the wall and the ceilings, in case you get extra-enthusiastic with the roller. If you're extra dedicated, you can use some paintable caulk to get an even cleaner line where the wall and ceiling meet.
Sandpaper and some lightweight spackling (and a mask to use with them): If you have anything on the walls right now, you'll want to patch the nail holes before you start and then sand the surface until it's smooth. You'll need to use a mask for this task, so if you don't have one toss one in your basket. (Also, if you want to start a fight at the paint store, start asking strangers whether to use spackling, painter's putty, or caulk for those holes.)
Drop cloth: If you can't move your furniture, it's OK to build SofaHenge in the center of the room. Just cover it all with a canvas drop cloth, and the same goes with the floors. If you have a tendency to be extra sloppy, pick up a couple of cheap plastic table cloths at the dollar store and put them under the canvas cloths so any big spills won't bleed through onto the carpet.
(Image credit: Sponsored)
Brushes: You don't need a billion different brushes, even if you're painting multiple rooms. The edge of the brush is the most important part for getting those sharp lines, so it's better to spend a little more on one or two good brushes than to stock up like you're painting frescoes in the bathroom.
A roller, roller covers, and an extension: Be sure to measure the height of your ceilings before you start shopping, because using a fully extended roller is one billion times better than having to balance on a step-stool all afternoon.
This post was created by the Apartment Therapy Creative Studio and is sponsored by Glidden®.
Thank you for supporting the brands that make Apartment Therapy possible.
Apartment Therapy supports our readers with carefully chosen product recommendations to improve life at home. You support us through our independently chosen links, many of which earn us a commission.