How Classic Neutrals Are Getting a Lot More Exciting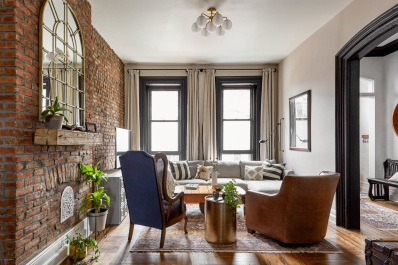 (Image credit: Rikki Snyder | Apartment Therapy)
Neutrals will never go out of style, but lately we've been seeing them take on a new sophistication. More and more, we're seeing classic neutrals show up with deeper tints—shades a little more exciting than ecru or bone—and people are really leaning into those colors that fall somewhere in the middle of two other colors.
It's the whole point of our New Neutrals Project, where we're looking at neutral paint in contemporary spaces—and making over some readers' spaces in the process. Today, we're looking at Bellamy's makeover, who chose a bold new neutral to tie together diverse color components in her historic living room.
(Image credit: Rikki Snyder | Apartment Therapy)
Bellamy's circa 1899 living room has lots of enviously historic details, including beautiful and bold black trim and an original exposed brick wall. So, when she was looking for a new neutral color, it was important to find one that stands alongside these architectural details without overpowering them. That's why we went with Taupe Tease from Behr's Premium Plus® Interior Collectionfor a subtly warm feel that allows the original features of the space to really shine through.
EXPERT TIP: What exactly is taupe? The word comes from Latin and then French for "moleskin." The color lives somewhere between brown and gray; sometimes a little closer to one than the other. It's delightfully hard to pinpoint it, so think of it as a whole spectrum of neutrals that you can use as a very warm gray.
In addition to really helping those architectural details stand out, the subdued warmth of Taupe Tease complements the beautiful antique wooden coffee table, worn brown leather club chair, and the brassy side table in Bellamy's space. Choosing a neutral that has hints of the other predominant colors in the room (in this case, warm brown tones) helps bring the entire space together for a cohesive look.
(Image credit: Rikki Snyder | Apartment Therapy)
EXPERT TIP: One of the classic tips for picking a color is to find something that complements the furniture you already own. Here's how to do it: Bring home a bunch of paint chips you're immediately drawn to in the store and place them next to your largest or loudest pieces. Get rid of anything that feels off right away. Then whittle it down to the two or three that feel best and paint swatches on the wall behind the furniture. Live with it for a few days and you'll learn how the shades really make you feel.
(Image credit: Rikki Snyder | Apartment Therapy)
When choosing a neutral foundation paint, also be sure to get a finish and quality that will hold up for the long haul. Behr's Premium Plus® Interior Collection is easy to apply, stain-resistant and scrubbable, so it's pretty much disaster-proof. This makes it ideal for high traffic areas that are more prone to scuffs and spills, like entryways and living rooms.
Check out the full Behr Premium Plus® Interior Collection to find your new neutral.
This post is sponsored by Behr and was created by the Apartment Therapy Creative Studio.
Thank you for supporting the brands that make Apartment Therapy possible.