How Do You Store All Your Seasonal Stuff for the Other 11 Months?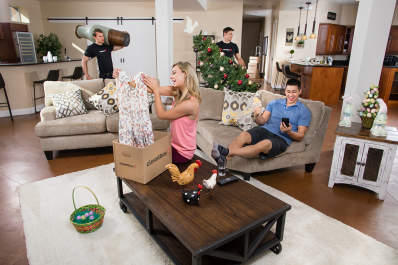 (Image credit: ClosetBox)
Let's say you had Cher's closet from Clueless, but not just for clothes: for all your stuff. Think how much that would change your whole year. Your holiday motif, for example, could become the fully realized dreamscape you imagined if you had an endless amount of storage space, right?
This is exactly what Closetbox offers: all the extra storage space you need, plus all the heavy lifting. Professional storage movers come to your door to pick up your stuff, inventory it, and store it for as long as you need. When you want it back, you can request any item you need from your online inventory and they'll deliver it to your home.
(Image credit: Closetbox)
Since it's full service and items can be requested on-demand, Closetbox opens up a whole new solution for storing that stuff you only need for part of the year. Winter wonderlands in July; patriotic bunting in January. Once they pick up your things, you'll have access to your own digital Closetbox account. With a click, you can request any item you need to be taken out of your private, temperature-controlled vault and delivered to your home.
So just because you live in a tiny apartment (or don't have a car to lug stuff around town) doesn't mean you can't go all out decorating for the holidays, bring out a bigger table (and seating!) for dinner parties, have clothes capsules for all seasons, or own a surfboard. All these items are now just a click away and totally schlep-less.
(Image credit: ClosetBox)
Kick off the New Year with more space by sending your holiday decor to storage rather than finding the space for it at home or renting a creepy self-storage unit you have to make trips to yourself. And maybe send off some other items that you won't need for a few months (looking at you, beach umbrella) as well. Then, you can make a monthly (or quarterly) plan of what to swap out next based on the seasons.
Get started with full service storage at Closetbox.
This post is sponsored by Closetbox and was created by the Apartment Therapy Creative Studio.
Thank you for supporting the brands that make Apartment Therapy possible.
Comments have been disabled.