How This DIY Blogger Transformed Her Dilapidated Fixer-Upper
Name: Jenni Radosevich of I Spy DIY
Location: Milwaukee
Size: 1,465 square feet
Years lived in: 1.5 years
As the founder of I Spy DIY, Jenni's superpower is looking at a fabulous accessory or covetable piece of decor and saying, "I can do that." So it's little wonder that her entire house was one big do-it-yourself.
When Jenni first spied her $24,000, three-bedroom, two-bath abode, it was a fixer-upper with a lot of, um, potential. The roof was leaking, there were animals living in the walls, and "you could barely see it smelled so bad," she says. "It was a complete wreck."
Jenni soon learned the property was owned by the city, which meant it would require a proposal process. "They wanted someone who'd come in and live there, not flip it," she says. "Someone who was going to invest in the neighborhood." The city couldn't have found someone more willing to invest.
---
---

Jenni enlisted the help of a real estate agent and Realtor® (a member of the National Association of Realtors®), who is one of Milwaukee's top sellers and had a superpower of her own: helping first-time buyers like Jenni. The Realtor® worked with her for four weeks, helping file the proposal with the city. Cut ahead to Jenni winning the house, and then let the DIYs begin!
Jenni set her $100,000 reno budget on the fly as she vaulted ceilings, knocked down walls, and installed built-in shelving. She admits she didn't sleep much while the house was in progress, but four months later, every inch of the space celebrates her eclectic-modern vibe. And it turns out creating a DIY home comes with fringe benefits: "I became a lot more confident in my skills through the renovation process," she says of the whole experience.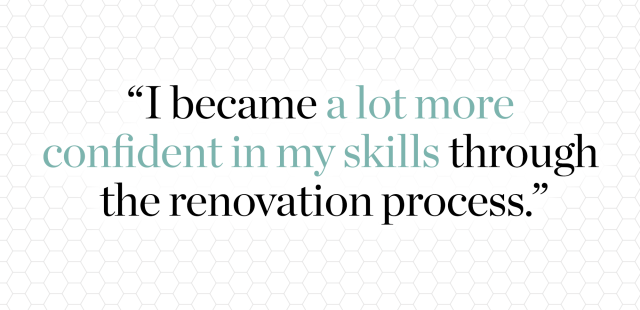 With houses in her neighborhood now going for $250,000, Jenni is happy with her home-sized DIY: "My instincts turned out to be right, and that feels good. It's a lot of work, but it's amazing to have something that's my own."
Resources:
PAINT
White paint throughout the house — HGTV HOME by Sherwin-Williams Extra White
DOWNSTAIRS BATHROOM
Kohler Brockway Sink
Behr Statuesque Wall Paint
Schlage Bowery Knob
Naturally Dyed Cotton Turkish Towels
Article Tana Wood Stool
Clear Barcelona Glass Vase
Target Soft Iron Wall Hooks
Society 6 "Bath" Framed Art Print – Walnut frame
Society 6 "Spring" Framed Art Print – Walnut frame
Vintage Mirror
IKEA Step Stool (paint with Chalkboard Paint: Devine Dollar)
Target Garbage Can
Wayfair Barn Light
Chasing Paper Wallpaper – Botany in Tangerine/Ivory
10″ Silver Hexagon TWorld Market Hand Soap
DIY Cedar Mat
Kohler Cimarron Toilet Kohler Levity Shower doorTarget Towel
DIY Hanging Planter
UPSTAIRS BATHROOM:
Kohler Vox Rectangle Sink
Iron Works Bathtub
Purist cross faucet
Purist cross bath handle
Purist tissue holder
Purist towel ring
Purist Bath spout
Contemporary Round Rainhead
Cimarron toilet
Target Wood stump (no longer in stores)
Square mirror
DIY Wooden Ladder
DIY Bath Board
Tile Shop 2″x2″ Matte hexagon tile + 3″x6″subway tile
Langley Street 2 Light Wall Sconce
Amazon hanging planter
Matte Black canisters
BEDROOM:
West Elm Mobile Chandelier – Grand
Minted Art - Jane Gallagher
Sinus Square Stitched Platform Bed
Lazarette Barn Light
World Market Water Hyacinth Bench
World Market Boho Kilim Rug
Vintage Vase
Allen + Roth Frosted Maple Wood Laminate
The Citizenry Bedspread - Similar Blanket
OFFICE SPACE IN MASTER BEDROOM:
World Market Desk
Jenny's Print Shop Art Poppies and Hyacinth in Shutterfly Canvas in Walnut Frame
Vintage Frame
Target Rug
West Elm Chair (old)
Hobby Lobby Ladder
World Market Vase (old)
Antlers (from a local shop)
Target Chunky Knit Wool Woven Rug
LIVING ROOM:
Custom Coffee Table
Article Nirvana Dakota Tan Sofa
Article Pendula light
Article Tana Wood Stool
World Market Woven Basket
RugsUSA Jubilee Solid Braided Indoor/Outdoor
Hobby Lobby Blanket
Pillows - Mix of Target, Mudcloth, Marshall's
Items on Shelves: Mix of World Market, West Elm, Amazon and Vintage
Bull Print by Amy Carroll for Minted
KITCHEN:
Rejuvenation Copper Carson 12″ Wall Sconce
The Tile Shop 2″ Matte White Hexagon Tiles
Kohler Matte Black Purist faucet
Kohler Cairn double bowl sink
GlideRite Hardware Classic Cabinet Bin Pull
Cosmas Flat Black Cabinet Hardware Round Mushroom Knob
CR Light Edison Style Industrial Vintage Creative Pendant Lamp
Cali Bamboo Hardwood flooring-Vintage Moonlight
Minted Leaf in Green Art
Schlage Century Single Cylinder Handleset and Latitude Lever
Snow Quartz Countertop
World Market Extra Large Acacia Wood Paddle Cutting Board
West Elm Pink/Copper Vase
Door painted in Behr Black Evergreen
RugsUSA Berta Native Symbols Rug
Marshall's stools
World Market White Textured Stoneware Bowls
World Market Stone Gray Mugs
Target Utensil Canister
Chermex Coffeemaker
Better Homes and Gardens Copper Hammered Mule Mug
Hearth & Hand Green Stoneware Pitcher
Vintage Copper canisters
Thrifted Pineapple
ENTRY:
Plankwise Midcentury White Stickable Wall Wood
Home Goods Mirror
Baxton Studio Nelson Wooden Bench
Vintage Rug
LAUNDRY ROOM:
Thrifted Door
World Market

DINING ROOM:
Novogratz Chromeo 5-light Pendant
Target Outdoor Chairs
Custom Table
Newgate Cookhouse Clock
Southern Enterprises Elliot Midcentury Modern Bar Cart
World Market Flatweave Jute Kilim Malika Area Rug
Anthropologie Vase (old)
CRAFT ROOM:
Rejuvenation Cedar & Moss 8″ Semi-Flush Light
Target Monet Sheer Linen Pleated Cabana Stripe Curtain Panel
Plankwise Noir Stickable Wall Wood
Sauder Craft Pro Series
Quartet Cork Tiles 12x12"
GUEST ROOM:
Wall Color BEHR Hostaleaf
Rejuvenation Pillow
Hobby Lobby Throw
Brooklinen Twill Charcoal stripe sheets/pillow
Target Comforter
Target dish (Old)
Target Table
Similar Wayfair Bed
World Market Sconce
Vintage books
Amazon alarm clock
Target Vase
Amazon Copper outlet plates
Target Dresser (DIY coming)
Target Globe
West Elm Candle
H&M Home Vase
Amazon Wall hooks
Target hanging frame
Colleen O'Connor landscape art
Amazon light switch
Schalge door handle
Similar World Market Mirror
Society 6 Art Reflection in Walnut Frame
Thanks, Jenni!
This post is sponsored by the National Association of Realtors® and was created by Apartment Therapy's Creative Studio. Realtors® are members of the National Association of Realtors®.
Thank you for supporting the brands that make Apartment Therapy possible.