How to Choose the Right Sectional for Your Space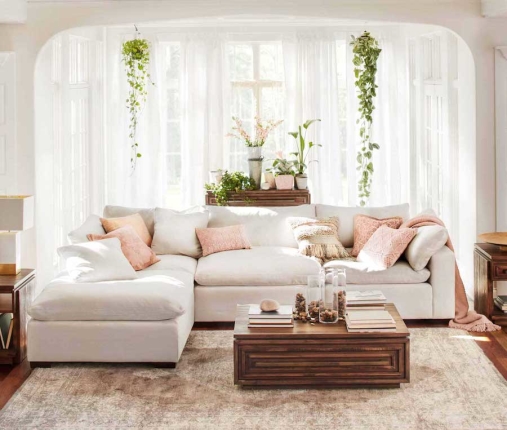 Imagine a Tetris game where every single shape was exactly the one you needed in that moment. In the game of living room layouts, that scenario exists, and we call it a sectional. This versatile superhero sets up a space for big parties and cozy Netflix binges alike. Add in a choice of fabrics and colors and you've got thousands of configurations to set up whatever living room you want to live in. So, where to begin?
We've taken four common living room situations and shown how a sectional sets them up for success. To illustrate the layouts, we're using the Plush Modular Collection from Value City Furniture. It's comfortable, versatile (thanks to its modular design) and stylish—so stylish, in fact, that it inspired Value City Furniture's new Designer Looks collection. Now...to the layouts!
The Multi-functional Sectional
Best for: Small spaces where flexibility is a must
For smaller spaces, investing in a 2-piece modular sectional and an additional armless chair is both practical and flexible. Because each piece is separate, you can connect or disconnect them to fit your needs. Create a nice conversation space when you're entertaining by leaving space between the pieces, or place them together for a nice lounge area ideal for lazy Sunday mornings or late-night Netflix binges.
The Right Angle
Best for: Medium-sized spaces with a central focal point
L-shaped sectionals can help create a seating space within a larger room while also defining a focal point within that space. If your goal is to establish your fireplace or TV as a central focal point in your space, an L-shape will help direct focus toward it and the area around it. Balance the shape with an armchair across from the shorter end of the "L" for extra seating so it's more comfortable for entertaining.
The U-shape
Best for: Larger spaces where entertaining is a priority
Building a U-shaped fortress with the Plush 3-Piece Sectional and an additional armless chair and corner chair or ottoman makes for the ultimate in living room luxury. Cozy enough for a movie night for two, yet spacious enough for entertaining plenty of cocktail party guests, this configuration becomes a conversation pit. The U-shape puts the focus on each other—the whole goal of entertaining.
The Ottoman Empire
Best for: Spaces where you have an existing sectional or sofa
Often overlooked when sectional shopping, the ottoman is one of the most versatile pieces you can add to your living space. Put a tray on top and it's a coffee table. Need more seating for a party? No problem, just scooch it up next to the end of your sectional. And let's not forget the one job it's really known for...propping up your feet at the end of a long day.
Whatever your ideal sectional layout is, it's easy to piece together with the Plush Modular Collection at Value City Furniture.
This post is sponsored by Value City Furniture and was created by the Apartment Therapy Creative Studio.
Thank you for supporting the brands that make Apartment Therapy possible.