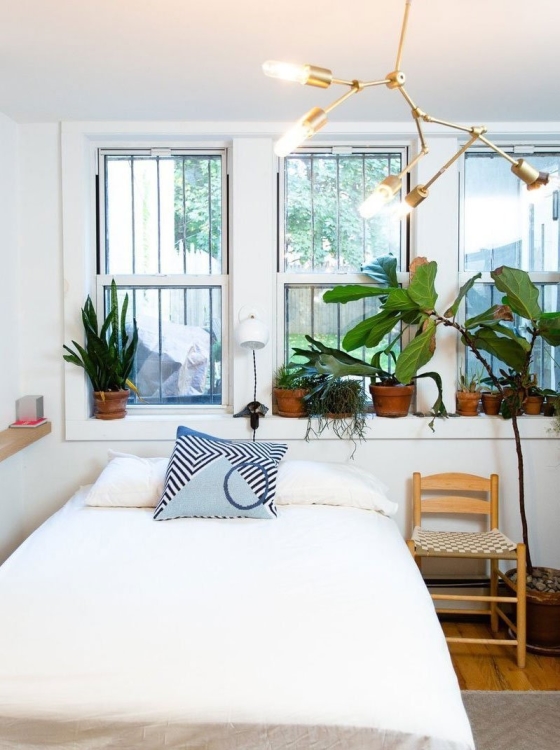 (Image credit: Pablo Enriquez)
As home gawkers here at Apartment Therapy, we're pretty obsessed with the idea of staying in someone's home and seeing how they live. Having stayed as guests recently in a few Airbnb homes across the country (hello, perfect cottage in Santa Barbara – miss you already!) we've come to recognize that becoming an Airbnb host may not seem as easy as being an Airbnb guest. If you're like us, then you have some questions. What's it like to be a host? What are the tricks and tips to being successful? What do we really need to know to get started? To get some real answers to our questions, we reached out to a few local LA hosts to get the inside scoop on how to host on Airbnb.
Meet Your Hosts
Getting Started
How/why did you decide to host on Airbnb?
MK: We have other friends/neighbors that were hosting and had positive things to say.
TD: We have stayed as Airbnb guests all over the country (and in some foreign countries), and it seemed like a natural move.
AS: My husband is a screenwriter, so he tends to go through periods of unemployment. I thought Airbnb would be an excellent way to get us through these periods and make life a little more interesting.
Would you recommend others to host on Airbnb? Why?
MK: Yes, absolutely. We've had a great experience and Airbnb makes it seamless.
TD: It's a very personal choice, so I could only recommend it to others if they are comfortable meeting new people, and introducing them to their hometowns. I love encouraging visitors to seek out hidden gems, and not just the obvious spots (Disneyland, anyone?!)
AS: Absolutely! If you enjoy meeting great people from all over the world, hearing their stories and making lasting connections, all while making some money – you will love Airbnb. There's satisfaction there, too, knowing that we're providing a service people need and are helping them afford a vacation. And of course it's nice to know you can still trust strangers.
Listing Your Space
What do you think are the important things to include in your Airbnb listing description?
AS: Describing your neighborhood and space as accurately as possible is very important. It helps answer questions up front and prevents misunderstandings later. Other important factors worth noting are things like whether there's free parking or not, location of the nearest public transport, directions and options from the airport and of course a very clear and detailed list of house rules.
TD: In a city that caters to tourists, emphasizing location is paramount. The comforts of the house are also important, and I make sure to let guests know that we have a dog (who is friendly and hypo-allergenic) in the event that that is a problem.

What amenities or luxuries are important to have available for your guests?
MK: Wifi always seems to be a priority for guests, and a coffee maker is a must in my book.
TD: The wifi code is often the first thing guests ask for! Cable TV is in the bedroom. We provide access to the kitchen for guests to use, boutique toiletries and items guests may have forgotten are in the bathroom – razors, shampoo, sunscreen, and a hair dryer.
AS: People want to be comfortable and enjoy their stay, so you have to consider how you can offer that. Usually people want their luxuries from home so we make sure we can provide as much of that as possible along with anything else we think of along the way. It's worth noting that the use of kitchen and appliances have proven to be very popular with longer staying guests.
How do you know how to price your space per night?
MK: Pricing depends on the demand in your neighborhood. It's smart to first look at other listings in close proximity to your space and then find one that is comparable.
TD: When we first began hosting, our price was very low, as we wanted to attract users and build a reputation. Slowly, we increased the nightly rate, and I soon learned that when we have more than two guests, it is necessary to charge more, as the laundry load for us doubles.
AS: At first, we priced our listing slightly below what other similar listings in the area were going for. After we had 10 positive reviews, we slightly raised our prices. We also adjust prices based on seasonal demand.
How long does it take to gain momentum in renting out your rooms/home on Airbnb?
MK: I think a big part of that has to do with your photos and the "title" of your listing. For us we started getting bookings as soon as we listed our space and we've been busy ever since.
AS: If you can believe it, we've been consistently booked since we put up our listing. As long as you're hospitable and forthcoming to your guests and things go smooth, you're likely to get positive reviews and attain a super host status. When those add up, potential guests notice on the site and feel like they're in good hands.
How often do you host? Do you block off any days on your listing's calendar?
MK: We host as often as needed. We never black out any days.
TD: I rarely block off dates, and only if I know I have friends visiting from out of town.
AS: We only block off dates when friends/family visit or when we go out of town ourselves.
Did you get professional photos taken of your place or did you take them yourself?
MK: We used Airbnb's free photographer service. They sent over one of their professional photographers.
TD: Yes, we had professional photographs taken of the house, not by Airbnb.
AS: I also had an Airbnb professional photographer take photos of our house. Later on, as the house's décor evolved, I've added some photos I took myself. I'm obsessed with colorful wallpaper and bright details and those really pop in the photos. Style goes a long way.
(Image credit: Kim Lucian)
Welcoming Your Guests
Do you hire a maid service before guests' arrival, or do you clean yourself? Do you have a routine?
MK: I have a professional clean the house. She is our cleaning person so I know I can trust her and she always shows up.
TD: I clean the room after each visit and launder the bedding, towels, bathmat. The floor is vacuumed, the bathroom floor mopped, and all surfaces cleaned to the max.
AS: We usually clean ourselves and have gotten pretty efficient at it. We make sure to clean between each guest, and once a month I'll invite a professional cleaning crew for a deep clean.
Have you invested any money into your home (renovations or big purchases) to better your guests' experience or to attract guests?
TD: Major purchases were minimal, although I do invest in boutique toiletries, put out flowers or potted seasonal plants and bought nice linen and towels.
AS: We converted a closet into a half bath in our bedroom so that both guests and us can have our own bathrooms. We'd like to think it's helped.
How do you welcome your Airbnb guests? Do you leave a key in a specific place or are you always there for their arrival?
MK: We always send a "Welcome to Silverlake" email the day before with the code for the lockbox, and have flat and sparkling water on the counter for when they arrive. I let them know that I am just steps away if they need me or have any troubles with the lockbox.
TD: My schedule is flexible, as I work from home, so I am usually available to welcome guests. If not, I let them know in advance where the key will be.
AS: Either myself or my husband are always here to greet guests. It makes it more personal and puts everyone at ease. Plus it gives you a chance to chat and feel each other out. This lets you know how much space to give them and vice versa.
What is your hosting style? How do you interact with your guests?
MK: I leave that up to the guest. I always let them know that I am here and available to them if they have any questions. I like to give the guest privacy and let them dictate if they are independent or perhaps they would like some interaction.
TD: Laid-back. Some guests need and want a lot of input; others, I barely see. Being accommodating to the guests' needs is very important.
AS: We are reactive hosts: meaning that we adapt to how guests interact with us during the initial welcome. It's easy to tell if someone is outgoing and likes to have a lot of interaction or if someone is more private, based on that, we will act accordingly.
(Image credit: Pablo Enriquez)
Bidding Your Guests Farewell
What has been the most surprising thing about being an Airbnb host?
TD: How much I enjoy being a host. I've found a new mini-career in the hospitality business! I also have enjoyed getting to know several guests who are repeat visitors.
AS: How easy it turned out to be. Once I saw how nice, polite, respectful and appreciative of our house/décor most people are, I started enjoying it and looking forward to meeting new guests and sharing stories with them.
Do you write reviews for all of your guests?
MK: I think I have written a review for almost all of our guests and not a single bad review.
TD: I write reviews for every guest – almost all have been stellar. Most guests leave the room in very good condition; some even strip the bedding and empty the trash.
AS: Yes, it is very important in a community based on trust. Reviews are a good indicator of how someone will be as a guest.
How and when do you get paid?
MK: Airbnb handles all of the financial aspects. Typically, we receive a direct deposit 24 hours after the guest has checked in.
TD: Airbnb deposits directly into my bank account.
AS: We get paid via PayPal instant transfer the next day after guests check in. The process is very quick and efficient.
What have you done with your funds from hosting?
MK: It just gets deposited into our account – so it goes toward paying bills. Not exciting, but practical!
TD: I keep a separate account for the funds, as I use them to pay for household maintenance and property taxes.
AS: We use the funds to continue restoring our house, landscaping, and put towards the mortgage. When we're really doing well, the funds also go towards my hobbies or my husband might use some to finance a short film. It all helps us tremendously though.
Ready to start hosting? Visit airbnb.com/host or call 1-888-421-3407 to learn more about becoming a host and start renting your space!