How to Make a Buzz-Worthy Hanging Wall Banner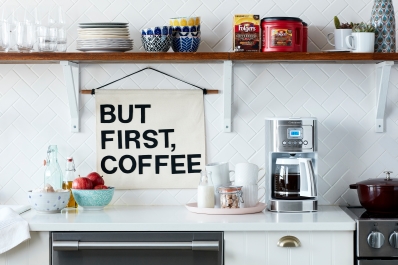 (Image credit: Ryan Dausch)
Want to make mornings a little more easier? It helps to have a little something inspiring...something that might even keep you from hitting the snooze button a second (or third) time. A coffee corner is a simple way to perk up a kitchen corner, and with this little DIY it's so easy to personalize.
All you need is a motivational message. Use it to remind yourself of whatever makes you happy. (For us, that's coffee. And it doesn't so much make us "happy" as it does "a functioning human being.") Once you've got that, brew some Folgers® Coffeehouse Blend, and turn your message into a banner below. You can find all the supplies you need to make this banner at craft and/or hardware stores, and it's no-sew. So simple!
What You'll Need
Measuring Tape or Ruler
Pencil
Duck Canvas
Peel & Stick Felt
Alphabet Stencils (we used Helvetica)
⅝" Dowel, Cut Longer Than 18"
Hot Glue Gun
Scissors
Leather Rope (or a shoelace)
Hook (to hang finished project)
What You'll Do
Make Your Banner
Iron the canvas. Then, use your pencil to mark an 18" x 18" square on the back of the canvas (so your markings won't show on the finished project).
Cut your canvas along the lines you've marked.
Fold roughly ½" over the left and right sides of your banner, ironing to smooth the sides down. Glue your folds in place on the back side of the canvas. Then fold roughly ½" over the bottom edge of your banner, ironing to smooth the edge down. Glue the fold in place on the back side of the canvas.
The last edge will form the top of your canvas. Place the dowel on the back side, fold the canvas over to create a pole pocket, and glue the fold in place.
Make Your Message
To make the letters, flip the felt over so you're working on the papered back side. (Don't peel the paper before you begin!) Turn your stencils backwards, so the letters come out forwards. Trace the shape of the letter with your pencil.
Cut each letter out, and give it a little trim to even out jagged cuts. (Or don't, for a more handmade feel.)
With the papered backs still on the felt, lay your letters on the canvas in order. You can use a ruler or measuring tape to get the spacing right. This is your last chance to spellcheck.
Tie a leather strap or shoelace to each end of the dowel, then hang from a hook.
Pour a cuppa, admire your handiwork, and look forward to how easy it'll be to get out of bed tomorrow.
Make Your Coffee
To get your coffee station operational. If you're into medium-dark roasts, you're going to want a cup of Folgers® Coffeehouse Blend. It's smooth enough to drink black, but rich enough for the flavor to come through if you take cream or milk, and it tastes just as great over ice. It comes ground, or in 12 or 18-count K-Cups if that's your thing. Now, wake up, fuel up, and seize the day!
(Image credit: Ryan Dausch)
For more ways to wake up, visit folgerscoffee.com.
This post is sponsored by Folgers® Coffeehouse Blend and was created by the Apartment Therapy Creative Studio.
Thank you for supporting the brands that make Apartment Therapy possible.
Comments have been disabled.