2018's Trending Color Palettes, According to Our Readers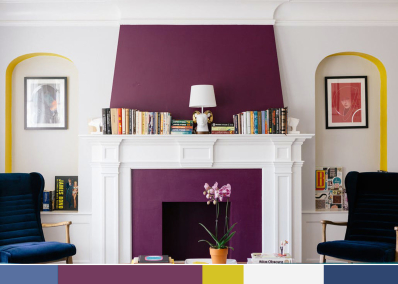 (Image credit: Aimee Mazzenga)
You've been searching, and (not to sound creepy) we've been watching. Today, we're revealing three new Color Search palettes based on your top color searches. Color Search is, of course, our cool tool that lets you look at any image in our House Tours and tells you what Sherwin-Williams paint color will get you that look. Or, if you're going the other way, lets you tell us what colors you're feeling and see how other real people have used them in their homes.
Which brings us to the most popular palettes of right now. You might be surprised at what's trending...
The Most Popular, Period
If there's one thing we learned when looking at the most popular Color Searches, it's that you're not afraid of color. Definitely not! Our most popular palette includes a ton of bold hues across the spectrum, from punchy reds to attention-grabbing yellows to the confident green like in the photo above. Good on you for keeping life colorful!
Inky, Dramatic Darks
When we discovered you all are really digging dark shades, we wondered if emo is having another moment. But we'd hardly started applying our mascara before we realized that it's more about using your homes as cozy sanctuaries from an overstimulating world. A super-saturated teal is the key player in the room above, alongside a palette of misty grays, rosy pinks and sandy browns that together say you're keeping it chill. Pro tip: don't let a small space scare you away from this palette; dark colors can (weirdly) make them feel bigger.
Dusty Pastels
Millennial pink has yielded the field to a cadre of other pretty pastels. Our third palette embraces all the power-of-understatement mattes that have taken over our Instagram feeds lately. They're all about joyful optimism without sugarcoating. Alongside faded hues like barely-there blush and a soft robin's egg, a bold dash of sapphire keeps the room above from getting too washed out.
Ready to bring some more color into your world? Check out our new Color Search palettes—or dream up your own—and get inspired!
This post is sponsored by Sherwin-Williams and was created by the Apartment Therapy Creative Studio.
Thank you for supporting the brands that make Apartment Therapy possible.