Introducing: The Little Black Dresser
Inspired by Holly Golightly's impossibly quick and startlingly chic getting-ready routine in Breakfast At Tiffany's, we took to the work studio to see just how fast we could turn a plain old dresser into a favorite...little black dresser (every girl should have one). All it really takes is the right colors, the best paint (we chose Emerald® paint and primer in one by Sherwin-Williams), and some quick drying methods.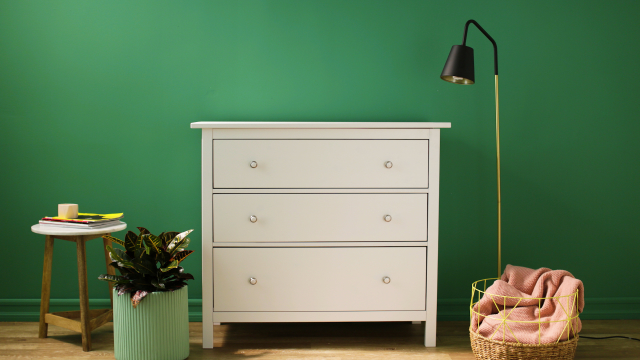 (Image credit: There We Go Films)
How to Create Some Good Dresser Vibes
1) Wake up late.
2) Take the cheap knobs off a quick-assemble dresser. Set aside to toss out the window at unrelenting suitors as needed.
3) Clean the dresser first with warm water and detergent and then sand* it once it's dry.
4) Remove drawers and paint the body of the dresser in Romance SW 6323. It's both paint and primer, so just one coat is enough.
5) Feed the cat. Skim milk in a champagne coupe is fine.
6) Place the dresser drawers back into their slider rails and then pull the top one out just a bit.
7) Here's where you Golightly. Hold the inside of the top drawer with your fingertips and gently coat the outside with Tricorn Black SW 6258 using a sponge or soft bristle brush. Slowly brush from the center of the face out to the edge. Let the drawer rest slightly outside the dresser frame so it can dry quickly.
8) Do the same for the drawer below.
9) And the same for the drawer below that.
10) Put on mascara. Find your alligator slingbacks. Slip into your little black dress. Or, just watch the paint dry while you catch up on Netflix. Then, use it to twist your hair into an effortless up-do.
10) Carefully screw new knobs onto your dresser; gold or brass works best here. If it looks like Chanel when you're done, then you did it right.
(Image credit: There We Go Films)
Marvelous job, darling! If you really love it, take the same colors and turn them into patterns on chairs, a side table or other accent pieces. And just like your favorite little black dress, your new dresser will serve you well for years. Emerald® paint and primer in one by Sherwin-Williams is engineered with advanced-stain blocking technology and resists water streaking and spotting, making it a good choice for projects like this.
Got a piece of furniture you're ready to dress up? Find your perfect color at Sherwin-Williams.com.
---
* — WARNING!
Removal of old paint by sanding, scraping or other means may generate dust or fumes that contain lead. Exposure to lead dust or fumes may cause brain damage or other adverse health effects, especially in children or pregnant women. Controlling exposure to lead or other hazardous substances requires the use of proper protective equipment, such as a properly fitted respirator (
NIOSH
approved) and proper containment and cleanup. For more information, call the National Lead Information Center at
1-800-424-LEAD
(in US) or contact your local health authority.
---
This post was created by the Apartment Therapy Creative Studio and is sponsored by Sherwin-Williams.
Thank you for supporting the brands that make Apartment Therapy possible.
Apartment Therapy supports our readers with carefully chosen product recommendations to improve life at home. You support us through our independently chosen links, many of which earn us a commission.