Julie's Living Room Gets a Global Makeover: The Before
Say hello to Julie, a mom who is trying to balance...everything, really. But the part that we can help her with is making her already gorgeous, light-filled apartment reflect her wanderlusty family, including husband Victor and one-year-old son Teo. Although she loves the character and existing beauty of the space itself, she wishes it would reflect her personality and interests — like her love for world travel — without being too eclectic or chaotic. (It also needs to be comfortable, in case she ever has a minute to sit down.)
She'll be consulting with three style experts, each bringing their best ideas and favorite picks from Target's global-inspired collection. But before any of them ring her doorbell, let's hear from Julie herself. She talked with us about her current decor, her design preferences, and what she'd like to change. Take it away, Julie...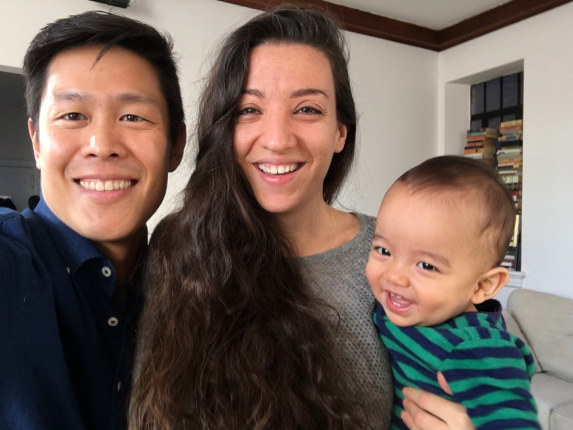 (Image credit: courtesy Julie)
---
My husband Victor and I have lived in this apartment for almost seven years and, although our son Teo's arrival has been the best thing ever, it has definitely made our home much more cluttered. It seems like every day we accumulate more things and, in a small space, you really feel it. Plus, right now, everything seems like it's covered in spit-up and food.
Our home is very special to us. The reason we fell in love with it was because of the architectural details, natural light and charm that it has. We want to find pieces that complement those features — the wood beams and iron windows, for example. Personally, we're a mix of form (me) and function (Victor), so we're always looking for things that can meet both of our needs.
Our style is a mix of everything: Almost everything we have is from different places. There are finds from traveling abroad, some family heirlooms and antiques, and a few random Craigslist-type things. The more we look at it, the more it feels like a whole lot of "stuff" with little design or style — especially after Teo came along. We definitely need to find a better way to hide or organize a lot of toys!
We'd like to have a more cohesive look throughout, while still maintaining the feeling of a unique space. These days, it feels kind of hodgepodge. We want to get rid of a lot of our old things and enjoy a few simple, unique pieces instead. We like living with handmade items, natural wood, unique antiques, and a sprinkling of interesting patterns and textures. I love Moroccan rugs and adore the aesthetic of Japan, even though we've never been. Some of my favorite places are Tanzania, Nepal, New Zealand, Turkey, and Panama.
Right now, there's a lot of random color going on, so we'd like to simplify with more blacks, whites, and neutrals. Then we could add some pops of color, some simple accents and statement pieces — as long as it's not bedazzled or ruffled. I don't have many style deal-breakers but, besides bedazzling or rhinestones, I'd like to avoid anything with words or sayings on it. I'll also pass on anything tufted.
With that in mind, we've had three style experts look at her style preferences and family needs to come up with one cohesive world-traveler look. Read on to see what Leela, Stacey, and Jacquelyn came up with...
---
A world of inspiration is now at Target. See what Julie's style experts choose for her below, and then come back on May 16 to see what she chooses for her After!
---
This post is sponsored by Target and was created by the Apartment Therapy Creative Studio. Thank you for supporting the brands that make Apartment Therapy possible.
More posts in Julie's TargetStyle Global Collection Makeover