Leela's Design Vision: Pink Poufs and Shimmery Surfaces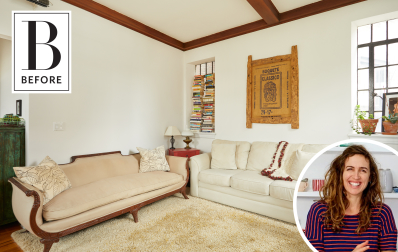 (Image credit: Emily Gilbert)
We're helping Julie and her family freshen up their living room. The project involves de-cluttering her space — a special challenge when you have a one-year-old — and adding some travel-inspired pops of color and personality.
We've set her up with three style experts, who will each build on what Julie has while adding some fresh inspiration from the TargetStyle Global Collection. One of these is Leela Cyd, author of the upcoming book Tasting Hygge: Joyful Recipes for Cozy Days and Nights. She's a California girl who loves to travel the world, which shows up in her aesthetic, a mix of sophisticated colors and patterns. Here's her picks for Julie...
---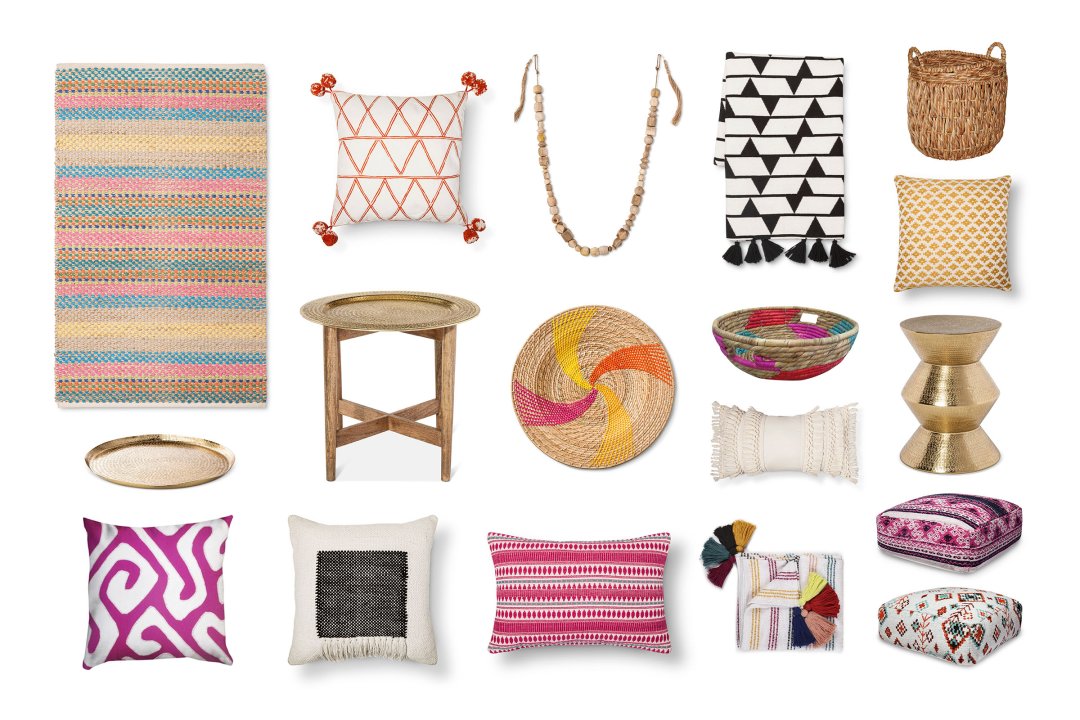 I'd start with fresh, fun rugs to complement Julie's cute, neutral sofas. I like layering rugs to give a room more texture and expand the surface area compared to just one rug. I'm starting with a base of color and then layering a neutral and black one, then Julie can flip the order for a change of season – or just a change in mood.
A cotton pouf with a fun pattern is safe for baby Teo and can also be used as a foot rest. If she wants to put a tray on it, she could also have a little tea party. I love the details and whimsy of the white and pink one.
Toy storage can be simplified with a few cute baskets, including a large, neutral one for bigger toys and this tasseled one for smaller items.
For a coffee table, a cluster of different surfaces is a way to add mobility and texture. The items can be moved around depending on the occasion, and the hammered gold tray would look great on the pouf too. Another great option as an extra surface for this multiple-table idea is to have a lot of chop blocks and linens on hand.
Pillows! Having a big stash of pillows for getting comfy on the couch or to use as additional seating is key. And having this kind of variety means that Julie can mix and match to her heart's delight. This collection in particular adds color and whimsy — especially the pink and white swirl pattern.
I love having a few different blankets, to wrap up in for morning coffee or when we settle in to watch a movie. These are cute and would complement the pillows and existing couches.
Having greenery in every room adds life and there's great joy to be had in taking care of something. Also, as Teo grows up, maybe he can have the job of watering a big (and easy to grow) indoor plant. I recommend Zanzibar Gem or pothos — both of them would look great in this earthenware planter, and they're nearly impossible to kill!
Having a wooden garland on the wall can add fun and texture as artwork. I think this would look great draped over their existing "baguette classico" piece — I love that!
And for a bit color on the wall, this wall basket brings some summer levity into the room with some jolly colors.
I'm Leela Cyd, and my work centers around making pictures, food styling and authoring books (Tasting Hygge: Joyful Recipes for Cozy Days and Nights is coming out later this year!). I love cultivating the good life with an abundance of tasty homemade food for family and friends, adventuring with my husband (and soon-to-arrive baby) around the world and learning about ritual and hospitality through other cultures. I'm also interested in using my photography to shine a light on social causes I believe in. (For example, I operate a yearly pie contest in Santa Barbara, my hometown, with all proceeds going to a nonprofit that assists homeless families.) My images are rooted in portraying everyday, beautiful imperfection — and my home and books also reflect this philosophy. It's all intertwined!
A world of inspiration is now at Target. Come back on May 16 to see what Julie, Victor, and Teo chose for their After!
This post is sponsored by Target and was created by the Apartment Therapy Creative Studio. Thank you for supporting the brands that make Apartment Therapy possible.
Apartment Therapy supports our readers with carefully chosen product recommendations to improve life at home. You support us through our independently chosen links, many of which earn us a commission.