Meaghan and Eric's Crowded Family Bed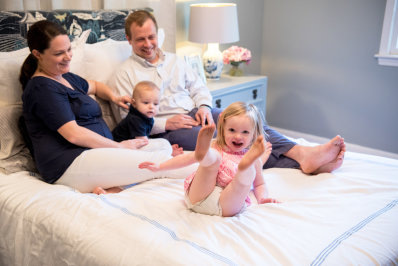 (Image credit: Emma McAlary)
Meaghan and Eric's family defines busy: Meaghan runs McNamara Design, a firm that specializes in interiors, installations, and furniture upcycling, as well as a daycare. The Maryland couple also has two little ones — with a third on the way in September!
Amidst this "organized chaos," as Meaghan calls it, her and Eric's master bedroom is an oasis of peace. And not just for them: Come morning, Hadley (2) and Emmett (1) pile into bed too, and it's not unusual for the whole family to eat breakfast and watch cartoons there before starting their days. But with a third kiddo coming soon, that bed is almost SRO.
Meaghan and Eric want their master bedroom to be a colorful but calm haven, where the growing family can reconnect and take a break from their hectic daily lives. The centerpiece of that serene space is an aging queen-sized bed: After eight years (!), it's losing its magic. It's time for an upgrade.
The mattress pros at Serta® are helping Americans declare peace from their crazed schedules and savor the sanctuary that is the bedroom. For Meaghan and Eric, that means switching to a king-sized Serta iComfort® Blue Max 500 Elite Luxury Firm with Motion Custom II Base. With several layers of advanced memory foam, this deluxe model is super supportive and cool to the touch — no matter how many kids are curled up on it! Plus, the Motion Custom base allows for easy reclining to watch those morning cartoons.
(Image credit: Emma McAlary)
We're going to give Meaghan and Eric a new mattress and some time to sleep on it. And watch cartoons on it. Though the chaos isn't likely to go away, we can hopefully help them declare peace in their bedroom. We'll check in with them then. To make your own declaration, go to declarepeace.com to share how you reclaimed your bedroom and find the Serta solution that's perfect for your serene sanctuary!
Declare peace in your bedroom!
---
Check in with Meaghan and Eric on July 20 to see how a better mattress gets them better sleep and more peace.
---
This post is sponsored by Serta and was created by Apartment Therapy's Creative Studio.
Thank you for supporting the brands that make Apartment Therapy possible.