Moving In Together? Do These 4 Things to Find Your Shared Style
Whether you're moving in with your boyfriend, girlfriend, or best friend, chances are your personal styles aren't a perfect match...yet. But there's good news! Mixing and matching styles is actually pretty easy if you follow a few cardinal rules. We went on a shopping and styling spree with Overstock.com to show how two distinct living room styles can become one. Turns out, Overstock.com doesn't sell overstocked items, they sell on-trend, new furniture for less. It's a great source for home, with a crazy big selection of stylish furniture and decor – as we found on our shopping spree. Along the way, we came up with some simple steps for building a cohesive look that will work for you and your co-dweller.
1. Purge Before You Merge

Rule #1 when it comes to moving in together is to get rid of anything you won't need in your new space. You'll save time and money on moving costs, and can start establishing a shared style even before you cohabitate. Start with the easy stuff: If you both have a full set of kitchen pans and utensils, just keep the top-quality set. Two beds? Pick the one that fits best in your new space (which is, hopefully, the bigger one). Then, move on to the much more fun next steps: the style details.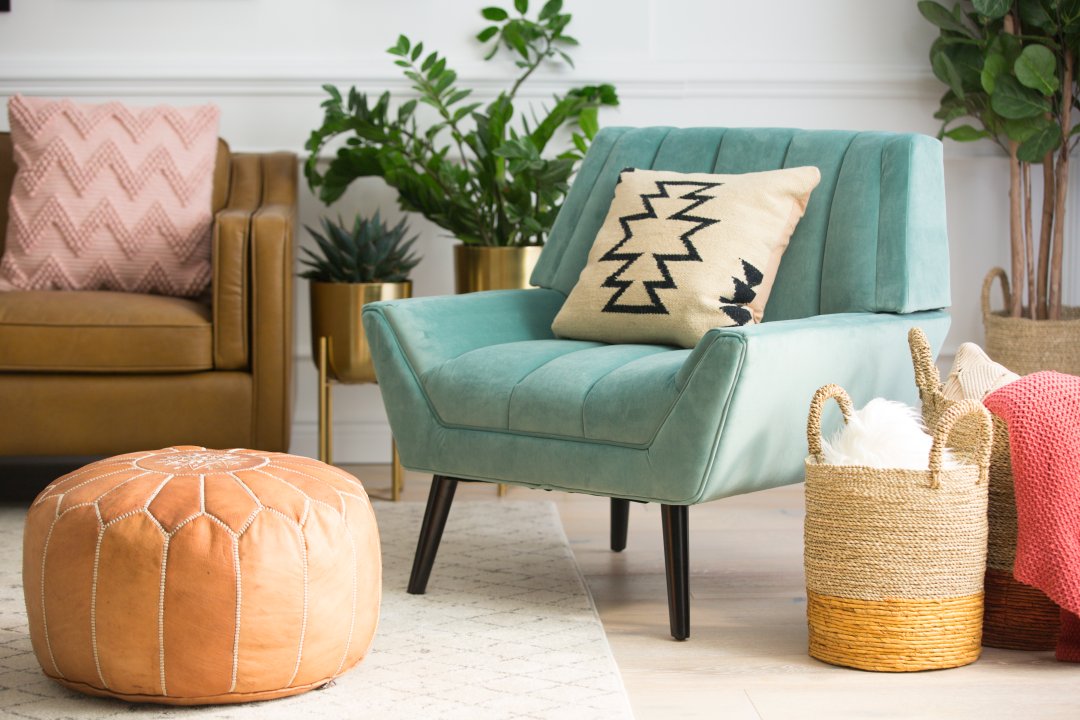 2. Build on What You Have
Inevitably, you'll need to add some furniture and decor to your space, either right away or over time. Identify any big-ticket items first, like an extra chair or a new sofa. Neutrals are your friend here; they'll help establish a palette. And, not that you'll ever need it, but should you one day go it alone, it will make things easier in your new space. We used a brown leather sofa as our centerpiece. It looks handsome next to the existing pastel armchair and dresses up adorably with pink accent pillows. Also, pay attention to finishes! We brought in gold planters to complement some of the other gold and brass accessories in the space for a unified look.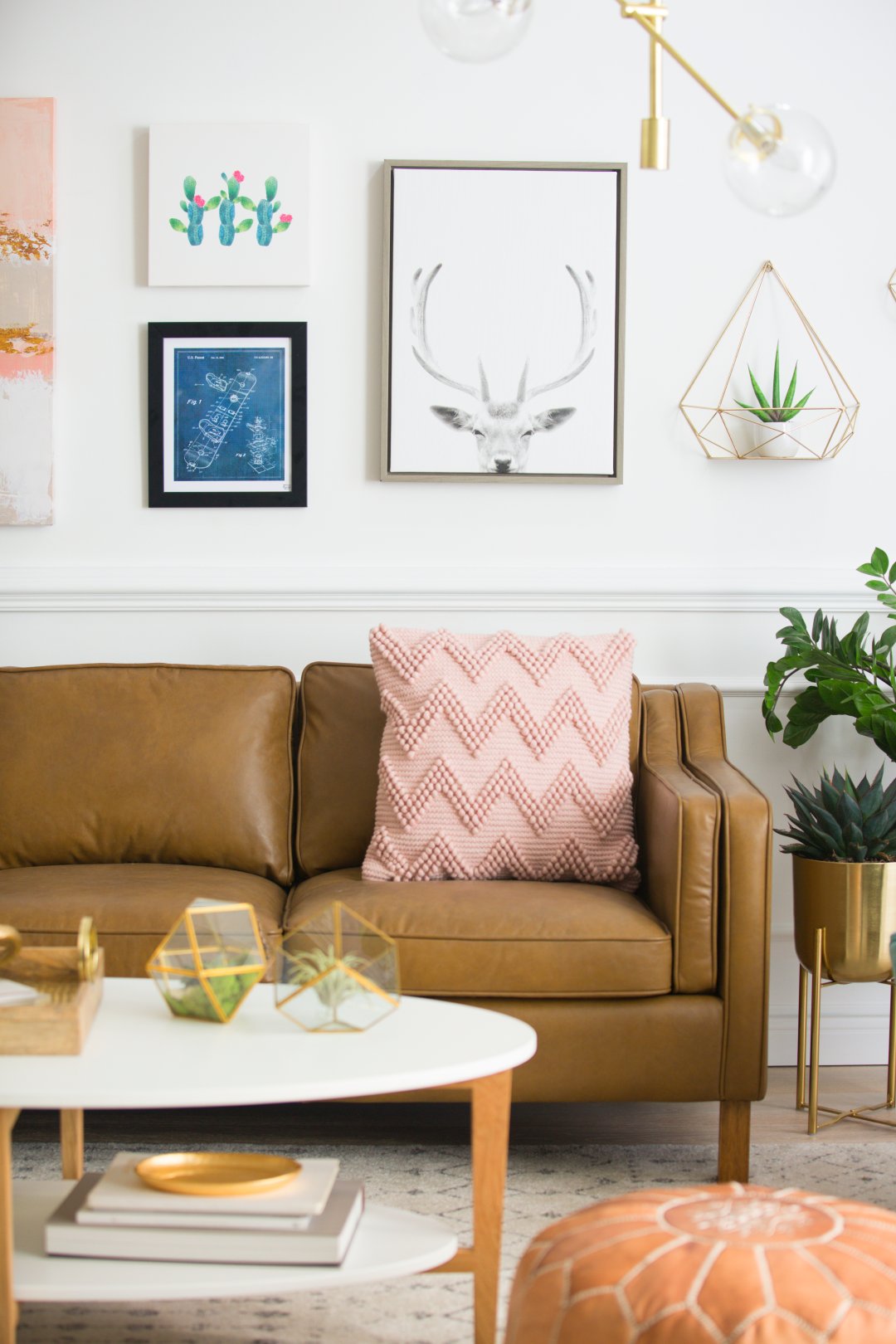 3. Pick a Palette
Establishing a shared color palette is one of the easiest ways to narrow down the options when it comes to deciding what to keep, what to leave behind, and what to acquire. Survey what furniture and decor you already have for an existing theme, and pull your palette from that. Once you're both set on a theme, the AR functionality of Overstock's app allows you to place pieces before you buy, to ensure that the dimensions and aesthetic are perfect each and every time.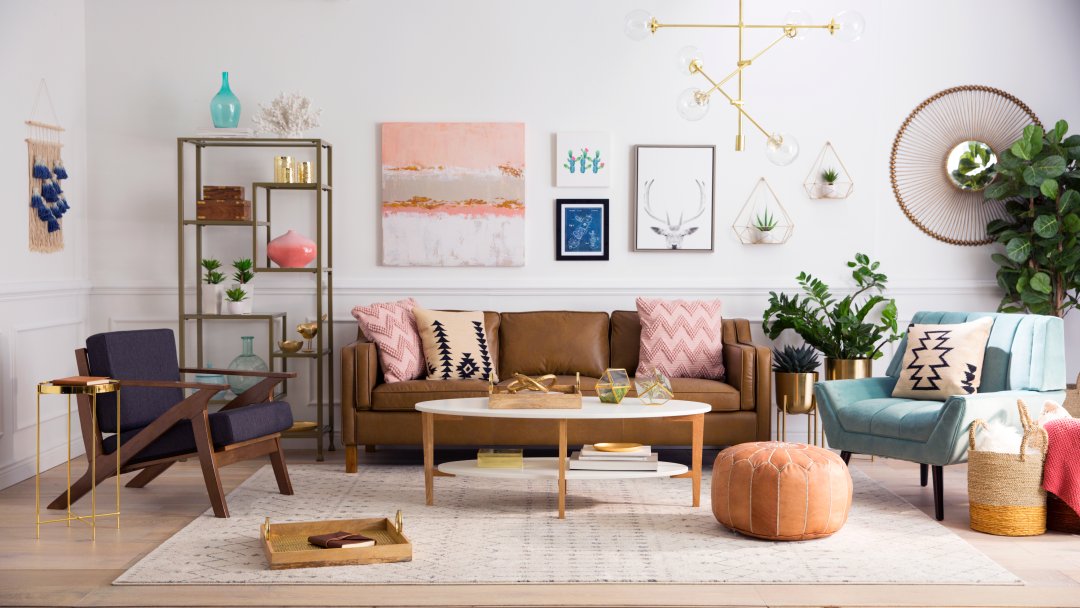 4. Meet in the Middle
Another place to find common themes among two personal styles is in similar shapes and patterns, like these chevron and southwest throw pillows that pair with geometric harmony. Or, agree on a common style that speaks to both of your tastes. In our shared living room, this turquoise chair made fast friends with a gray and walnut lounge chair, fitting our color palette while setting the stage for a mid-century modern look.
You'll probably be surprised how two disparate decor styles can actually offer several similarities you can work with. But it's not so surprising when you think about it—the two of you were attracted to each other for a reason!
Moving in together? Establish your shared style with Overstock.com's collection of budget-friendly furniture, decor, and more.
This post is sponsored by Overstock.com and was created by the Apartment Therapy Creative Studio.
Thank you for supporting the brands that make Apartment Therapy possible.
Photo Credit: Christopher Broe