One Bedroom, Two Ways: Which Matches Your Taste?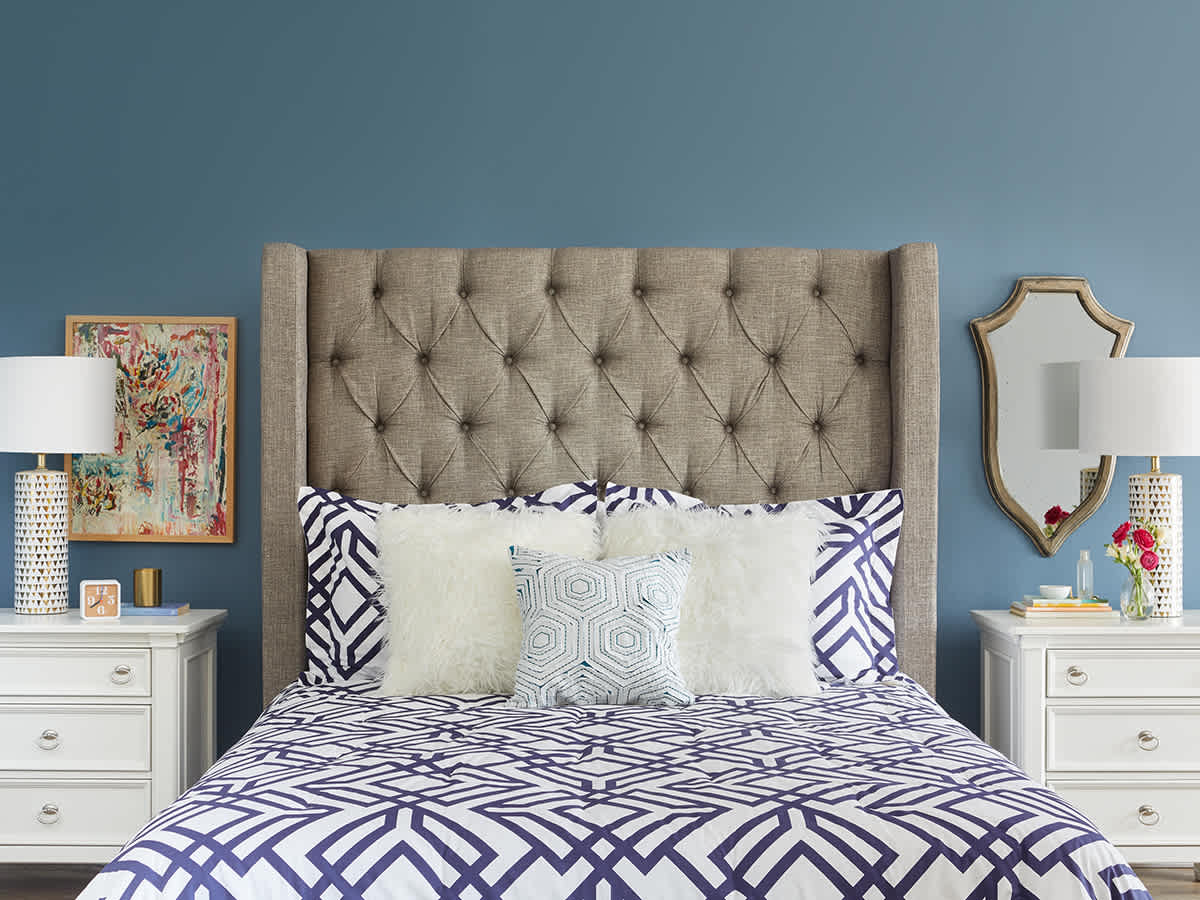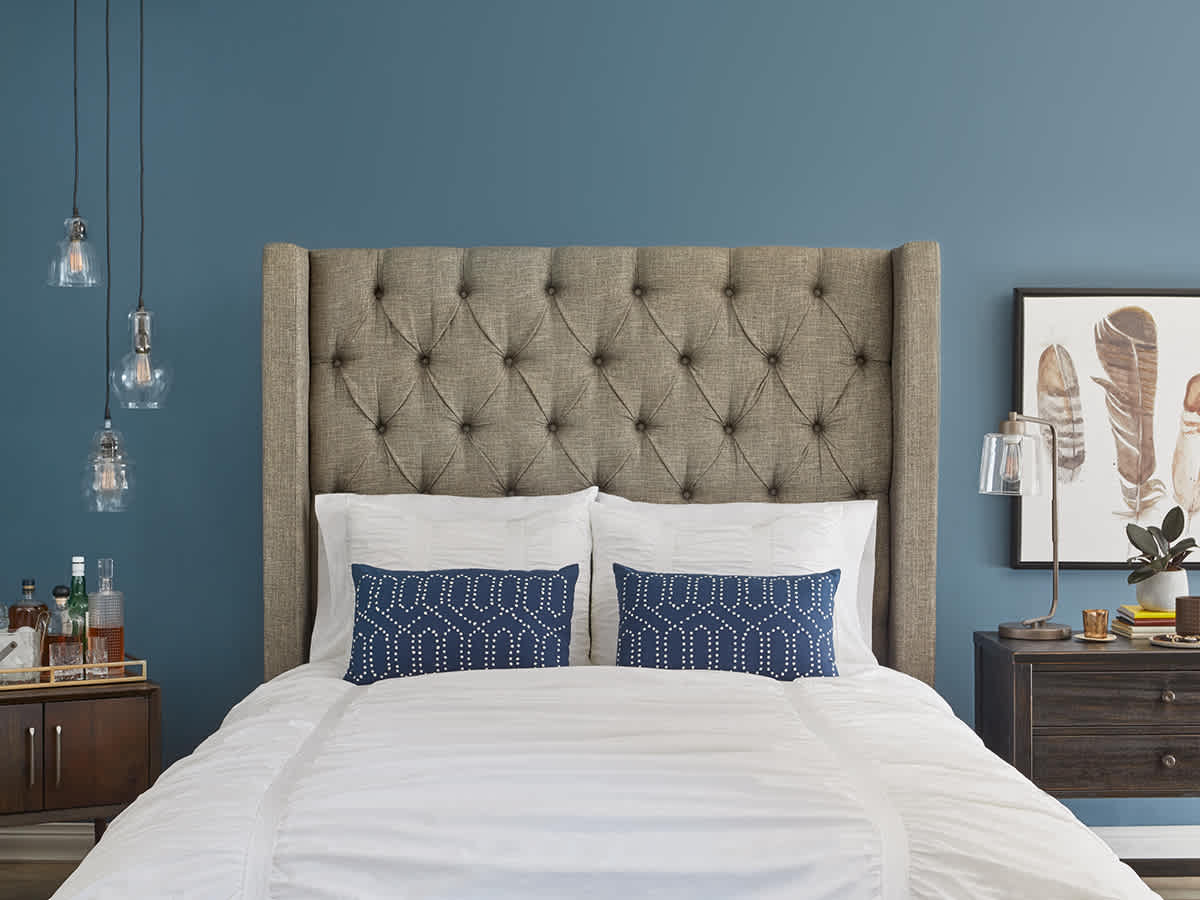 What happens when you ask two very different stylists to deck out the same room? We're about to find out. We invited Joan LeMay of Fifth House Interiors and Elliot Clark of Apartment Bartender to style a bedroom around Ashley HomeStore's Sorinella Queen Upholstered Bed. We thought this piece was the perfect centerpiece for the experiment: It anchors both rooms by being a glamorous centerpiece that's neutral enough to play with each style expert's personality pieces.
See how each expert styled a room around the bed, then go here to tell us whose look complements your own style. Your vote will enter you to win the whole setup from Ashley HomeStore! Now, onto the experts!

Joan LeMay
Joan LeMay is a painter, illustrator, and decorator living in Brooklyn, NY. Her firm,
Fifth House Interiors
, specializes in reimagining residential and commercial spaces through the lens of the individual client's tastes, feelings and goals, no matter their budget.
Joan's room is "Preppy Regency Chic," mixing classic geometric patterns, bold colors and regal silhouettes. The painting, one of Joan's own, adds a personal touch to the space.
Elliott Clark
Elliot Clark created
The Apartment Bartender
, his lifestyle blog and Instagram account, out of a passion for making craft cocktails fun and accessible for more people. His style is all about keeping it simple, favoring a clean, sophisticated, approachable look.
Elliott's "Stylish Masculine Haven" is simple with a sophisticated touch. He used the nightstand to double as stylish bar setup (hey, apartment dwellers put things wherever they can!) but otherwise kept his room streamlined, using the bed's chic, tailored feel as the grounding piece.
As different as their designs are, both Joan and Elliott managed to pack a lot of style into a small space. Check out their designs below and get their tips on how to build a similar look in your space...
Joan LeMay
Joan designs spaces to the tastes of her clients, but she knows there are universal visual rules, like weight and proportion, that make a solid starting point:
Mix & Match
Don't be afraid to mix and match pattens, colors, and texture, whether you're going all-out with bold hues or staying neutral. While opting for something minimal like a monochromatic, all-linen headboard and bedding combination can be peaceful and beautiful, it's not always very interesting....and can feel stale after a while. Mixing things up right from the get-go allows for more opportunity to creatively mess with your bedding to suit your mood or the season.
2. Get the Rightstand
Get a well-proportioned nightstand so that you can easily reach and accommodate your stuff. You want your nightstand to be between 22 and 25 inches tall, and wide and deep enough to allow for at least a glass of water, a book, and something else like an alarm clock. If you have the room to fit a lamp on your nightstand, all the better! If not, bedroom sconces are plentiful, and the plug-in kind is easy to find if hardwiring isn't an option.
3. Proportion Is Key
Putting a bench at the end of the bed? Make sure it's long enough! Like tip #2, proportion is important in decor. Queen beds are 60 inches wide, so a 40-inch-long bench will feel too small. If you are currently in possession of a too-dinky bench, balance the proportion out by sticking a nice basket next to it; you can toss your throw pillows into the basket at night when they're not in use.
4. Choose Lightweight Art
Opt for lightweight "soft art" like hung blankets, macrame pieces, or modern string art behind your bed, above the headboard. Not only is this a great look that visually carries the eye all the way up to the ceiling from your bed, but it's safer than hanging a heavy mirror above your noggin as well. As a rule, don't hang anything on the wall behind your bed that you wouldn't hang above a crib.
5. Keep It Cozy
Consider an under-the-bed rug that takes up a lot of the room. Especially in winter, it's really nice to get out of bed and have something plush under your feet.
Elliott Clark
Elliott's style comes from simplicity. His edited look takes a little bit of foresight and starts by focusing on basic quality. Here's how he approaches it:
1. Keep It Simple
Choose quality items over quantity, and keep the clutter low. Assess the space you have to work with and choose items (bed/bed frame, storage, lighting, etc.) that fit well with the room. More stuff is not always a good thing.
2. See It Before You Design It
Take some time beforehand to create a mood board and build out the look and feel you're going for. Doing this helps me to not get overwhelmed when I walk into a furniture store because I already have an idea of what I'm going for.
3. Do You Even Sleep Comfy, Bro?
You can have the best designed room of all time, but if you're breaking your back every time you sleep, you won't want to be in it. Invest in a comfortable, high-quality mattress. It makes a world of difference.
4. Show Who You Are
Your bedroom is the most personal space in your home. Aside from selecting the essential items, decorate with wall paint, wall art, or smaller items around the room that add texture and personality to your space.
5. Ask For A Second Perspective
Style is personal, but it's always good to incorporate some collaboration. Seek perspective from people whose style and eye for design you trust and see what ideas they can add to make the bedroom design even better. You never know, they might just add an idea that makes your view of your bedroom go from like to love.
---
Whose style works for your own taste? Vote for your fave here and you'll be entered to win the whole set!

---
This post is sponsored by Ashley HomeStore and was created by the Apartment Therapy Creative Studio. Thank you for supporting the brands that make Apartment Therapy possible.
Apartment Therapy supports our readers with carefully chosen product recommendations to improve life at home. You support us through our independently chosen links, many of which earn us a commission.
Comments have been disabled.