Pablo and Sophie's Best Coast Bedroom Fix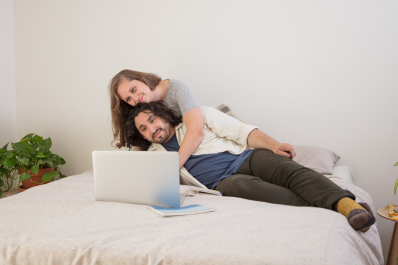 (Image credit: Pablo Enriquez)
Former New Yorkers Pablo, a photographer, and Sophie, a designer, are loving life in Los Angeles: sunshine, new chapters of their creative careers and, of course, new digs. All that action makes for hectic days, though. Between being in business for themselves and making their new house feel like home, the couple needs a bedroom that feels like a real respite. The centerpiece of their restful retreat? A dreamy new mattress suited to their summery new temps.
Pablo and Sophie have a casual, layered style that gravitates toward natural touches, which makes their bedroom an earthy oasis. Back in NYC they didn't like feeling removed from the outdoors, and much of their collection tried in some way to bring that in. That's gotten better in L.A., which they're reminded of every day when they see the gorgeous eucalyptus tree right outside their bedroom window. Other than this motif, they're not too fussy about what belongs and what doesn't. "We bring in things we like," Pablo says, "and don't worry too much if it all goes together."
But before they worry too much about decorating their new home, they have another obstacle that's literally keeping them up at night. Their memory foam mattress is too warm for SoCal seasons, with someone always hot! Not exactly the recipe for a restorative night's sleep. Which is exactly the problem Serta® is here to solve.
These mattress pros are dedicated to helping restless Americans declare peace from their crazed schedules and savor the sanctuary that is the bedroom. For Pablo and Sophie, that means a queen-sized Serta iComfort® Blue Max 500 Elite Luxury Firm with Motion Custom II Base. With advanced memory foam featuring new TempActiv™ cooling technology to keep sleeping temps comfy, this deluxe mattress has all the contouring comfort of memory foam and stays cool all night (even in La La Land).
Follow along as Pablo and Sophie declare peace in their bedroom. We'll give them a new mattress, some time to sleep on it, and then ask them if they're sleeping cooler in the Golden State. In the meantime, go to declarepeace.com to declare how you reclaimed your bedroom and find the Serta solution that's perfect for your serene sanctuary!
Declare peace in your bedroom!
---
Check in with Pablo and Sophie on July 20 to see how a better mattress gets them better sleep and more peace.
---
This post is sponsored by Serta and was created by Apartment Therapy's Creative Studio.
Thank you for supporting the brands that make Apartment Therapy possible.