8 Bloggers Show Us the One Piece That Completed Their Space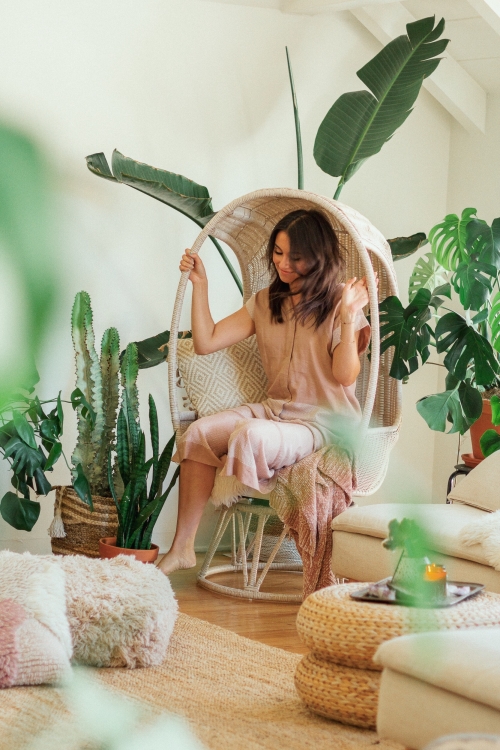 (Image credit: Sara Toufali)
As our personal style comes together, it's exciting to see how the right accent or accessory can make a space that much closer to feeling complete. Part of the process of getting there is gathering inspo (Read: Scrolling through feeds of interior eye candy), and we've learned a lot from these eight bloggers on how to develop a personal style.
Each has their own distinct look, with one thing in common—they all found the accents and accessories they were looking for at Pier 1. With its global influences and eclectic offerings, there's something for every style and then some. But don't take our word for it. See what they found:
This New Yorker-turned-Angeleno is all about that boho style—think natural neutrals, earthy textiles, and plants plants plants. Her blog, Black & Blooms, exudes relaxed, sun-drenched vibes in every post, and the Pier 1 Parchment Swivel Chair fits right in: a comfy spin on the iconic Papasan with retro flair and natural wicker.
Whether she's photographing interiors or fixing up her own home, Margaret's eye gravitates toward clean, open design and airy spaces. Exhibit A: the Charleston, South Carolina photographer's dreamy, tidy workspace. The Pier 1 Eli White Triangle Bookshelf Desk looks made for Margaret, with its white-and-blond-wood palette and open shelving—perfect for a day of creative work.
On Restoration House, Kennesha Buycks celebrates all that makes homes beautiful and life whole, from cozy fall tablescapes to pumpkin-carving nights with the fam. In her world, every textile, candle, and throw pillow is a chance to appreciate beauty—like this Pier 1 Isla Natural Seagrass Laundry Hamper, proof that even the most utilitarian item can bring joy.
Chelsey Brown has a knack for giving small, rented spaces luxe and romantic personalities. She knows that, especially when square footage is limited, the details make the mood. Pier 1's Textured Golden Stainless Steel flatware and Blush Napkins with Fringe add the right feminine finishing touch.
As the editor-in-chief of The Inspired Home, Lauren Kelp is a pro at classic style. Her looks are timeless without being afraid to have a little fun—like this chic Parisian-inspired master bedroom, where she's paired a sassy leopard-print rug with the classic Draper Light Brown Faux Leather Decorative Bench from Pier 1. The bench she chose is sold out now, but Pier 1's Marissa Brown Bench certainly matches the vibe.
Rachel Paxton's bright farmhouse style inspires instant feelings of comfort and coziness. The neutral color palettes and rich textures of her Texas home are chic and approachable—which might explain why we want to curl up with the Pier 1 Ivory Knit Checkered Throw and Diamond Chenille Gray Pillow she added to this fireside nook.
Count on Hommeboys—a.k.a. Austin Carrier and Alex Mutter-Rottmayer—for that well-curated eclectic vibe: never shy, always evolving, perpetually pulled together. The African Art Deco look of the couple's Sonoma, California, living room is a prime example of their one-of-a-kind style, and this individually crafted papier-mâché by Pier 1 look made for the space.
Whether they're on the road exploring the South or dreaming up DIYs for their Nashville home, BFFs Savannah and Casey personify earthy, boho style. They're currently vibing on fall colors and cozy textures, as this fireplace tableaux demonstrates. Punctuating the snuggling-by-the-fire feel: autumnal accessories from Pier 1, including a couple throws in warm plaid and a Geometric Wood and Glass Hurricane Candle Holder.
Find the piece that distinguishes your style at Pier 1.
This post is sponsored by Pier 1 and was created by the Apartment Therapy Creative Studio.
Thank you for supporting the brands that make Apartment Therapy possible.