Shades of Change: 3 Color Palettes for Setting Up a Living Room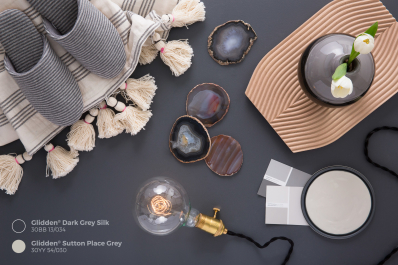 There's nothing like the rush of finding your first-love home — the one where you can be yourself, make your own rules, and pick your own paint colors. Or maybe you're lucky enough to have found your forever home — the one where all those pinboards can finally go from inspiration to installation. We used Glidden® colors to come up with living room looks that will keep that move-in-day feeling long after Day 1, so you can stay in love with your living room as you grow into it.
When you're setting up your home for the long haul, look for materials that are resistant to stains and washable...and make sure your paint has high-quality coverage. Glidden Diamond™ meets these criteria and will still look good long after everything's out of its box and in its place.
It's a great value.
It's a high-performing paint with a lifetime guarantee — but starts at just $23.98 a gallon.
It's durable.
Its scrubbable, stain-resistant formula made of 100% acrylic is ideal for high-traffic/high-moisture rooms.
It's a paint & primer in one.
Fewer coats = more time for family fun.

Taking the excitement of setting up a new home, we started by coming up with three moods for the living room: How should you feel in this room? We then developed the moods into color palettes that support that mood, with both a background and accents. Check out these moods, and then vote on your favorite below. At the bottom, you can see what look Maxwell chose, too!
New Blue In Town
Background: Glidden Heavenly Blue 70BG 68/056
Accent: Glidden Rich Navy 50BB 08/171
Best For: Creating clarity
Blue is calm, classic, and clean. It's a durable color for fabrics and furniture as well as walls, since it masks everyday wear and tear — like your favorite pair of jeans. It pairs well with both natural woods and warm metals (like brass and bronze). Light blues provide a sense of peace, while dark blues help bring a room down to earth. Glidden Rich Navy trim adds sophistication and grounds airy walls swathed in Glidden Heavenly Blue.
Just Add Water
Background: Glidden Seamist Green 10GY 74/325
Accent: Glidden Vintage Olive 50YY 26/289
Best For: Nurturing new beginnings
Green is the color of fresh starts and new growth. Although many consider green a bold choice, pale greens like Glidden Seamist accented with hues such as Glidden Vintage Olive appear almost neutral when you pair them with light white and dark browns. Let nature guide your style. Decorate with natural fabrics like cotton and linen, warm materials like wood and cork — plus plenty of plants. Succulent container gardens make great accessories, all while keeping your air a little cleaner.
Zen Nest
Background: Glidden Dark Grey Silk 30BB 13/034
Accent: Glidden Sutton Place Grey 30YY 54/030
Best For: Serenity in any setting

Creating a relaxing room is all about balance, so this palette uses light and dark grey to create cool contrast. For an airy feel, paint the walls with the lighter Glidden Sutton Place Grey, and the Glidden Dark Grey Silk on your trim. For an earthy room, reverse it. Soften this style with natural details (agate coasters, a pure cotton throw, fresh flowers) and low-key lighting. Add some slippers, a meditation cushion, and you're on the path to peace.

Maxwell's Pick:
Just Add Water
"I love that houseplants are trendy all over again. They bring texture and life to a space and lift its energy. Glidden's Seamist Green gives me that same feeling of freshness, and pairing it with a couple succulents is a long-term, affordable alternative to cut flowers."
–Maxwell Ryan, founder of Apartment Therapy
This post is sponsored by Glidden.
Thank you for supporting the brands that make Apartment Therapy possible.