Inspired Innovations for a Smarter Kitchen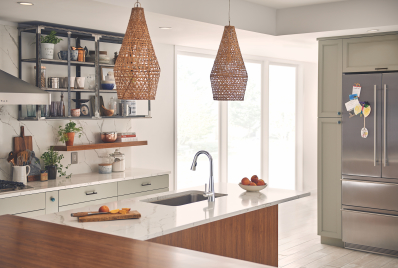 (Image credit: Moen)
The kitchen is the home's powerhouse of innovation. It's the lab where you test new ingredients, try new recipes, and taste new flavors. When that spark of cooking inspiration strikes, having a kitchen that's prepped and ready will help you bring that new dish to fruition. We've combed through years of kitchen tips and boiled it all down to a handful of recurring solutions that people have used to create spaces where anything is possible.
Clear the Clutter on the Counter
You don't need to KonMari everything in your kitchen — or hide it all away in your cabinets — but having a designated area of workable counter space available at all times will ensure you have the mental space to make the magic happen. A painter wouldn't stack bills on their blank canvas, would they? Plus, clearing the clutter means organizing your drawers and cabinets, so you can make sure the tools you use the most often are at your fingertips.
Invest in a Good Faucet
Nothing takes the wind out of your invention sails like spending a long time cleaning up (or already dreading the long clean-up while you're still brainstorming)! The Power Clean kitchen faucets from Moen have a spray with 50 percent more power than most pulldown faucets, which means you'll spend 50 percent less time cleaning and 50 percent more time enjoying the making...and the eating.
Let There Be Light
There's a reason a lightbulb is the go-to symbol for a new idea. Having proper lighting in your kitchen is essential when you're getting inspired and preparing for your next cooking or baking adventure. While mood lighting is great for enjoying the meal, you don't want to doze off in the middle of its prep. Have you ever seen a kitchen of a 5-star restaurant that was lit by candlelight?
Keep the Details Sleek and Strong
You can go crazy with a funky backsplash or a surprising cabinet color, but when it comes to the finishing touches, a uniform shape and finish on the hardware will tie your kitchen together and give you a high-end look. But it's not just about the appearance: Moen's kitchen accessories are designed to last — and they've got the warranty to prove it.
Don't Be Afraid to Make It Personal
Modern and minimalist kitchens are pretty, but it's easy to look at a pristine white kitchen and wonder if anyone actually cooks there. Don't be afraid to add in the things that make you feel inspired, whether it's a shelf of your favorite cookbooks or your grandmother's old apron hanging on the wall. Reminding yourself of personal comforts will give you the familiarity you need to experiment and innovate to your heart's content.
This post is sponsored by Moen and was created by the Apartment Therapy Creative Studio. Thank you for supporting the brands that make Apartment Therapy possible.
Apartment Therapy supports our readers with carefully chosen product recommendations to improve life at home. You support us through our independently chosen links, many of which earn us a commission.
Comments have been disabled.