That Friend Who's Always Losing Things? We Found Their Gift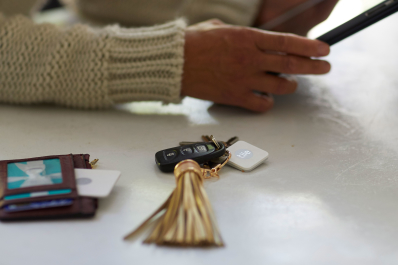 (Image credit: Tile)
Even the littlest gifts can be thoughtful and memorable. Take Tile, the tiny Bluetooth tracker that makes it easy to find everything that matters. It's a great gift for anyone who ever loses anything (i.e., all of us). You attach it to the thing you'll misplace (before you misplace it); then when it's lost, use your phone to either make Tile ring or to locate it in the app. So really, gifting someone a Tile is like gifting them the thing they won't have to replace later.
With new sizes and styles, there are more ways than ever to put this clever gadget to good use. Think of all the things you can help someone find!
1. Chargers
Phone and tablet chargers get lost or left behind even more than phones or tablets themselves. And they're not cheap to replace! Keep an eye on yours by attaching a Tile; you'll be able to make it ring and locate it from the Tile app on your phone.
2. Car
If you're constantly street parking in different spots or have ever lost your car in the mall parking lot, this one should be obvious. Keep a Tile in your car's glove box or center console. As long as you're within range, its exact location will pop up in your app.
3. Phone
I know, you're supposed to use your phone to find Tiles, but it also works the other way around. If you've lost your phone, press and hold a nearby Tile to make your phone ring, even if it's in silent mode.
4. Keys
A Tile attached to a keyring is a beautiful thing. Missing keys are almost always somewhere within Tile's range, so it's easy to use your phone to make your Tile ring to hunt them down. If you drop them beyond range, chances are good that a stranger's Tile will pass by and alert you with their location via the app.
5. Kids' Toys
Avoid bedtime meltdowns by covertly sewing a Tile Mate into your child's favorite stuffed animal and they'll never get lost again. Also helpful on holiday family trips.
6. Gym Bag
Ever locked up your gym bag in a locker, only to forget which one it was post-workout? A quick tap in the app will make it ring so you can easily find it again.
7. Wallet
The Tile Slim is Tile's thinnest Bluetooth tracker, making it a great wallet buddy. Tuck it into one of your wallet's credit card pockets and you won't even remember it's there...until you lose your wallet and suddenly it saves the day.
8. Passport
Don't leave on a trip without tucking a tile in with your passport; it could save your entire vacation! Attach a Tile Slim to the inside of your passport case, that way you can easily remove it when passing through Customs.
9. Umbrella
OK, not the most expensive item on the list, but still an annoying one to leave behind. Attaching a Tile Style or Tile Sport to your umbrella handle strap will help you stay high and dry.
Find Tile at Tile.com...and then find everything else.
This post is sponsored by Tile and was created by the Apartment Therapy Creative Studio.
Thank you for supporting the brands that make Apartment Therapy possible.
Apartment Therapy supports our readers with carefully chosen product recommendations to improve life at home. You support us through our independently chosen links, many of which earn us a commission.