Top 5 Sources of Color Inspiration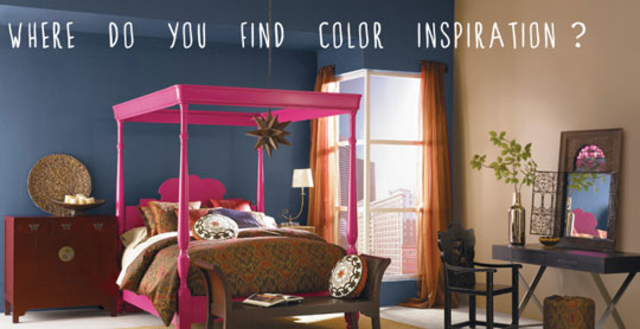 Painting is easy. It's knowing what color to paint that can be a challenge. We love the Sherwin-Williams Chip It!™ color selection tool that lets you find paint colors from any photo, so we've rounded up the top places we turn to find inspiration. Where do you hunt for colors?
Top 5 places to find color inspiration:
1. On your daily commute, look around for a color that catches your eye. Keep a collection of photos so you can start seeing which colors appear again and again. You can use the
Chip It!
color selection tool to find paint colors in your favorite shots.
2. There's nothing like travel to open our eyes to the amazing colors around us. The bonus of finding color inspiration on vacation is that it will become a permanent souvenir of your trip. How relaxing to paint your bedroom the Agate Green from your
chipped
vacation photo and have a constant reminder of the fabulous time you had in Spain!
3. Not sure what colors strike your fancy? Check your closet! You might learn that you've had a favorite color all along!
4. We don't just recommend our color contest as a source of inspiration, we've actually used it ourselves! This week we kick off our annual search for the world's most beautiful, colorful rooms. Vote on your favorites, then save them to your Color file!
5. You can search high and low for inspiration, but it all gets very REAL once you start looking at actual chips. Head to your
local paint store
with a color family in mind, and start narrowing down to a few favorites. Then you can take little sample pots home to start throwing swatches up on the wall. Nothing is more inspiring than tackling the project once and for all!
Where do you find your color inspiration? Tell us in the comments!
(Images: 1. Sherwin-Williams; 2. Chris; 3. Emily Long; 4. Kim Rineheimer; 5. Lee's "Almost Indigo" Room; 6. Sherwin-Williams.)