Weekend Upgrade: Jenna's Blah-to-Spa Shower Upgrade
With a full-time job, two kids, two huge dogs and a baby on the way, it's an understatement to say that Jenna's got a lot going on. She and her husband have renovated their home a little at a time. Their combination guest/kids' bathroom isn't bad, but it's "tired," to use Jenna's words.
As they prep for one more family member, the gray shower could use a colorful update, and a little tidying. "It needs the works, but on a smaller scale," Jenna says. Working with the existing bathroom and the pros at Bed Bath & Beyond, we wrangled the family's stuff, bringing style and storage to the shower in the process. No renovation, just organization and a total transformation. All in one weekend!
This is the kids' bathroom, but it also doubles as a guest bath. It needs to be baby-friendly, but adult enough for overnight guests. With (almost) three kids, it also needs plenty of storage for rubber duckies, baby bath products and tub toys.
Jenna describes her style as "on the modern side, but accessible." She's a fan of color, and isn't afraid to try something a little more exciting to take her bathroom from blah to spa.
Hardware upgrades are inexpensive ways to step up the shower experience for kids and grown-ups alike. A new showerhead is surprisingly simple to install and a game-changer for parents, since it includes a handheld nozzle. This shower gets a lot of use, so it also needs a hair catch and drain protector that's safe for little hands.
A dark blue shower curtain adds style. Its hookless design makes it easy to install, plus it comes with a built-in liner that snaps off, so it's easy for Jenna to throw it in the wash. Meanwhile, using a curved rod adds a surprising amount of room to the shower, using existing space more intelligently. A shower caddy with a built-in hose keeper stows the hand shower, and four shelves provide space for shampoos, conditioners and soaps.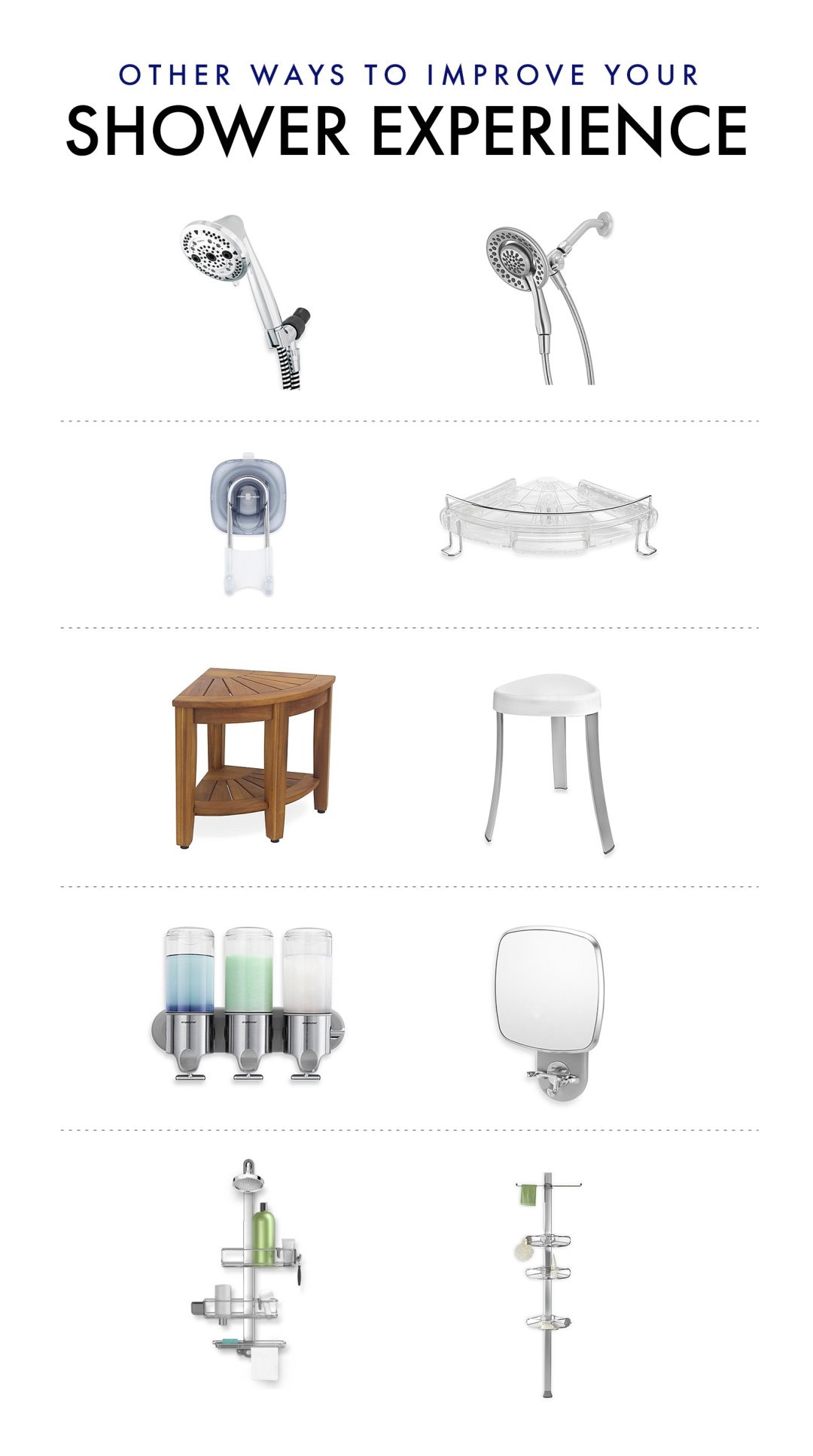 Bed Bath & Beyond has so much that it's easy to go in, get lost in the experience, and find a whole cart full of things you didn't even know you needed. Their associates can help you focus and get your list checked off, plus they've grouped their products into helpful styles that customers can mix and match to create a personal look. We pulled a little from each category to make our mood board.