Weekend Upgrade: Jenna's Practical-to-Personal Bathroom Style
Jenna is a mother to two kids — soon to be three — and two dogs. Her kids' bathroom doubles as the guest bath, which means it has to work extra hard, but it's also got to look good. Jenna describes her style as "on the modern side, but accessible. I don't want to have rooms my kids aren't allowed in and stuff they can't touch."
Working with their existing bathroom and the pros at Bed Bath & Beyond, we remade Jenna's space so it feels warm and unique — like her. No renovation, just decoration. The project brought her bathroom to the next level, and it only took one weekend.
Before, the bathroom was usable but not lovable. Jenna wasn't happy with the yellow-and-gray color palette, but she didn't have a budget to renovate the space. Since she works from home three days a week, it's especially important that her home feels like her style.
The star of this upgrade is the peel-and-stick wallpaper in a deep blue arrowhead pattern. Bathrooms can be tricky to paper, since they get so much moisture, but this wallpaper is vinyl coated and can be wiped clean. It's super easy to install, and it added just the right amount of pattern to bring some personality to the space.
We carried the blue through, adding a new shower curtain, bath rug, and towels in a classic navy color. As a crisp counterpart, we painted the walls and cabinets, and chose white sandstone accessories from the Composition Bath Collection. Details like a jade plant, potted succulents and a teak stool add a few natural elements.
Another change involved swapping the big mirror for two smaller mirrors, a design trick that gives two people their personal space instead of making it look like one big vanity. To elevate the area and make it feel a little more luxurious, we added new faucets and a new light fixture.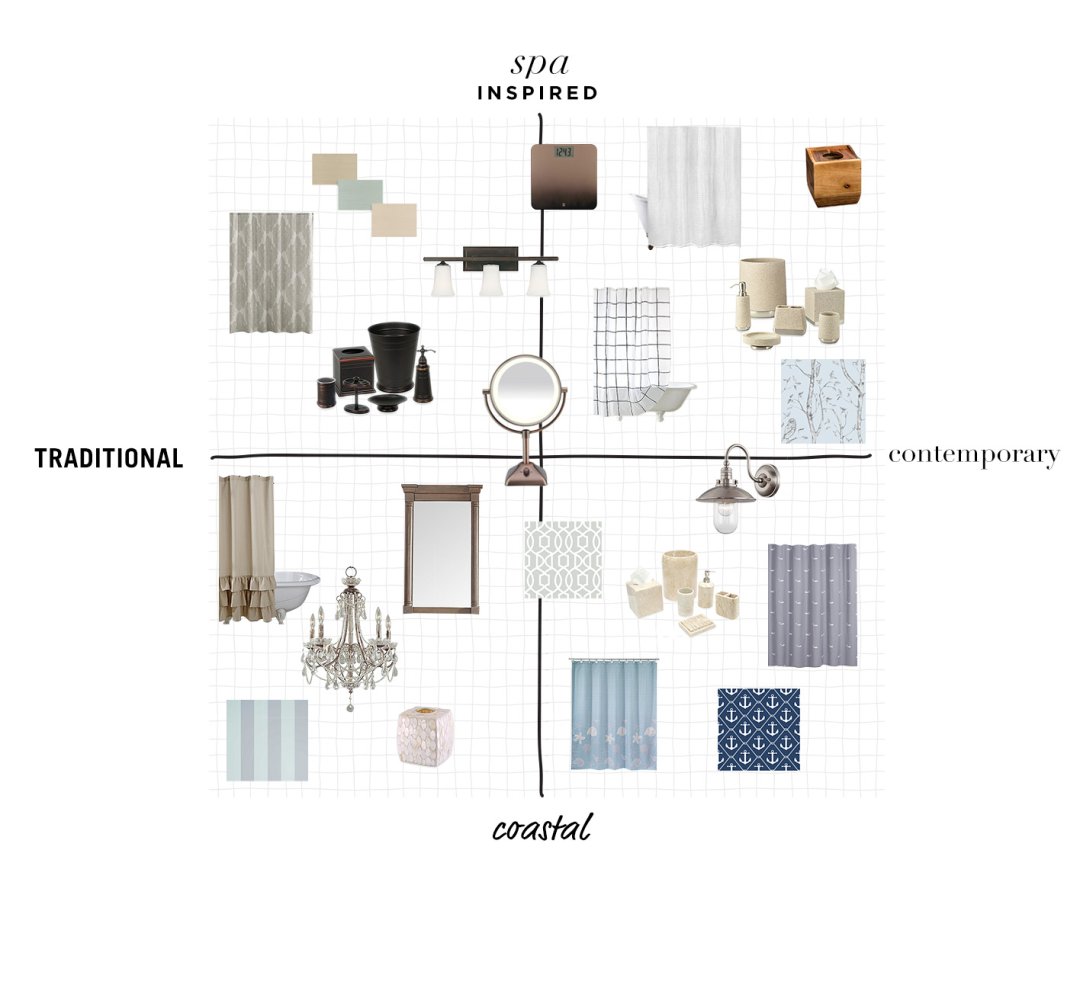 At Bed Bath & Beyond, their associates helped us organize our list and check everything off. We found a lot of things we didn't know we needed! Since Bed Bath & Beyond groups their products into four different styles, we were also able to mix and match, creating a look that felt unique to Jenna. We chose a few items from each style to make her mood board.

This post is sponsored by Bed Bath & Beyond and was created by Apartment Therapy's Creative Studio.
Thank you for supporting the brands that make Apartment Therapy possible.