What Does It Take for a Small Space to Work?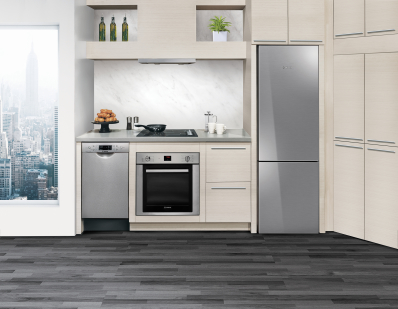 A smaller space can actually be an urban homeowner's dream: a beautiful, functional answer to the busy chaos of everyday life. With an eye for efficiency, square footage becomes irrelevant — and the old adage "less is more" becomes decidedly modern. So what does it take for a small space to work?
When it is intentional.
From the kitchen to the living room, when the elements of a small home address both form and function — a dishwasher with adjustable racks; a durable sofa with slim lines that don't overwhelm — living is easier and tasks are quicker. Everything counts. And when everything has a place, nothing is out of place.
When it is proportional.
Kitchens don't need to be huge to be efficient. Paying attention to proportional appliances, scaled to the needs of real home cooks, will streamline workflow in the most important room of the house. Inspired by this form-meets-function design, Bosch Home Appliances executes this concept with its new suite of small-space appliances — a line of compact refrigerators, cooktops, dishwashers, and more.
When it is simple.
Neutral tones like white, grey, and even touches of black unify a small modern space, and woodier neutrals add warmth. (Notice how the chair pictured above achieves a subtle pattern in a muted palette, adding visual interest without taking over the space.) It's easy to forget that the home should be an oasis, but a clean, airy aesthetic helps convey that feeling of calm.
When it is clutter-free.
From espresso makers to novels, mail to tech gadgets, our lives attract stuff. A small space is an opportunity to make sure that you have only what you love — and that you have room for it all. Evaluating your space for storage and simplicity will make for a happier, healthier home. (We swear, even the air is better in a clean space.)
How has life in a smaller space let you simplify your home and life? Share your stories — and tips — of downsized living in the comments.

This post is sponsored by Bosch Home Appliances.
Thank you for supporting the brands that make Apartment Therapy possible.