What I'm Giving (and Getting): Moto X Pure Edition Designed by Jonathan Adler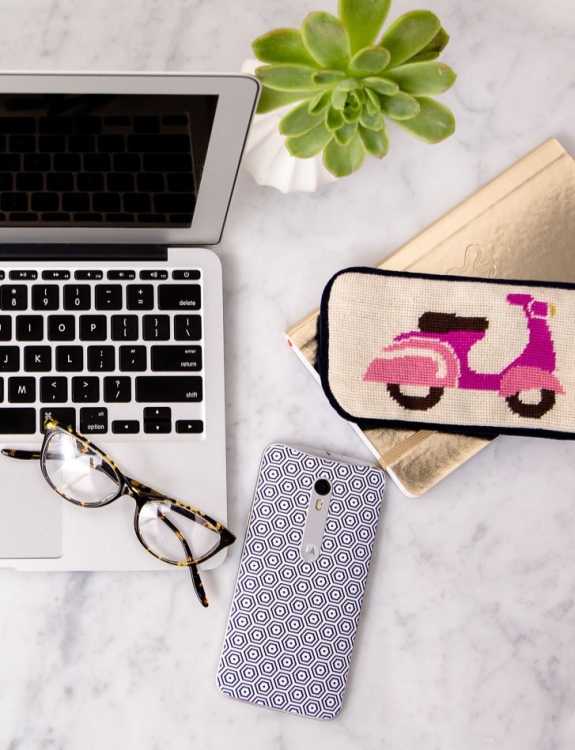 This time of year, about half my mental energy is spent searching for gifts that match the people on my list. When I discovered Motorola's Moto X Pure Edition designed by Jonathan Adler, I checked a few people off the list (myself, maybe, too?). Sporting the designer's signature happy hues and graphic patterns, this smart (and sassy) phone brings high design to your most functional device.
Both Motorola and Jonathan Adler believe in self-expression and are committed to placing the power of design and choice into the hands of consumers. Motorola's Moto Maker design platform allows customers to build their phones, choosing the tech (storage, SIM card), look (front, frame, back and accents) and those little details that really make it your phone (like the engraving and greeting). In similar DIY fashion, Jonathan Adler handed the design reigns over to his customers with an online ordering feature that allows them to customize throw pillows, rugs and blankets.
The Moto X Pure Edition encapsulates Jonathan's "break the rules and make it yours" design philosophy, not just on the outside, but inside, too. Taking personalization to the next level, the phone:
• Responds to your voice, even when your hands are full.
• Knows when you're driving and can keep you safe by reading your messages
• Shows you important information with the wave of a hand.
• Recognizes simple gestures to do important things like turn your camera or flashlight on quickly.
What other tech-type stuff do you need to know? It's got a 5.7" edge-to-edge display, front-facing speakers and a 21MP camera with a wide angle lens and selfie flash to ensure great photos. It's water-resistant and holds onto more than 30 hours of battery life. The Moto X Pure Edition is unlocked (GSM and CDMA), which means you can always go with the plan and carrier that's best for you. You can even switch carriers and take your phone with you. Just insert your SIM card into your new Moto X. All bells and whistles aside, it's really the style that speaks for this phone.
Go ahead…accessorize with abandon.
Buy all three Moto X Pure Editions designed by Jonathan Adler at Motorola.com/JonathanAdler.