What Would You Do with Customizable Wallpaper?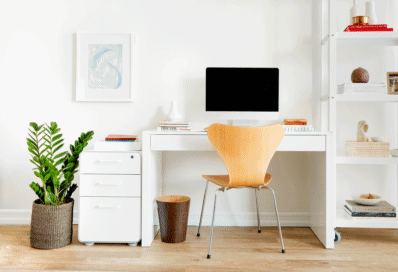 (Image credit: Rikki Snyder)
It's a lovely idea to have a dedicated home office to keep work and life things separate. But it's rarely a reality. What that means is that our "offices" often have to be carved out of another common space like the living room. When that's the setup, you can make it work by creating a separate space so that "office stuff" has a defined space to live in. Make the space creative and inspiring, and the whole thing will work.
On our project, we started with a blah white niche. We painted the adjacent walls a more lively blue, which made the space feel less like a dentist's office, but we realized we also needed some pattern to make this little nook stand out. Searching for a company that could match their wallpaper to exactly the shade we needed, we discovered DesignYourWall.
(Image credit: Rikki Snyder)
Actually, DesignYourWall does more than just match patterns to paint shades. They can customize the color and scale of many of the patterns on their site, plus they can create original, custom wallpaper from artwork and images you send in. Translation: You could cover an entire wall in a photo of your cat...if that's your thing.
(Image credit: Rikki Snyder)
First: Choose a pattern or upload your image. We picked Adrift. We like how the hand-carved woodblock pattern creates an imperfect grid of waves — plus it's a zero-VOC paper printed with eco-friendly inks.
(Image credit: Rikki Snyder)
Next: Describe your project to their designers. You can ask them to make the scale of a pattern larger, or to design something custom for you. If you're using your own image, they provide helpful specifications to make the most of your artwork. Our specs were to match the Adrift pattern to the color we used on the rest of the niche, Bainbridge Blue 749 by Benjamin Moore.
(Image credit: Rikki Snyder)
Last: Allow time for processing. Custom print times take 1–3 weeks to produce. After we received our order, we trimmed the paper and pasted it on the wall, just like you'd install regular wallpaper.
If we had to do this all over again, we probably wouldn't make it look as good as it does; now we just want to sit around admiring how pretty this workspace is instead of actually, you know, doing work in it.
Visit designyourwall.com to create your own custom wallpaper, or choose from hundreds of patterns in their library.
This post is sponsored by DesignYourWall and was created by Apartment Therapy's Creative Studio. Thank you for supporting the brands that make Apartment Therapy possible.