This $10 DIY Will Make a Plain Old Lamp Look Designer
We independently select these products—if you buy from one of our links, we may earn a commission. All prices were accurate at the time of publishing.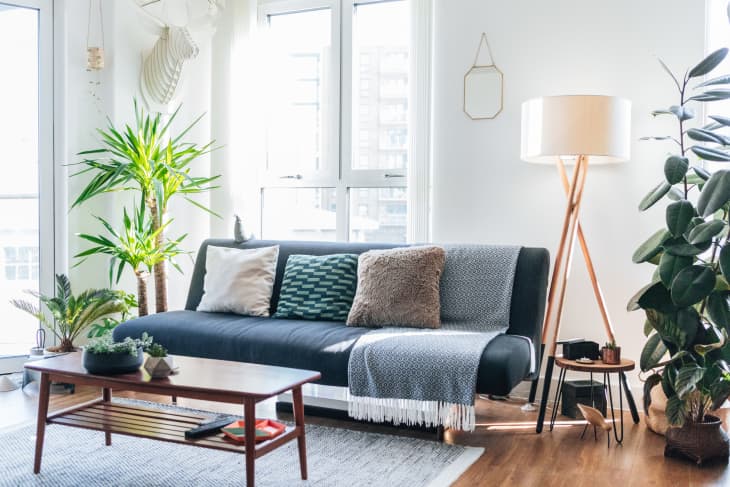 A charming lamp is always a fantastic thrift store find, but even when the base is in mint condition, the shade often looks like it's seen better days.
Follow Topics for more like this
Follow for more stories like this
Marcie Millholland, an Atlanta-based home and design expert with a love of thrifting, has an easy project to spruce up any lampshade that's looking a bit worn out. Using less than a yard of fabric, some glue, and an optional bias tape maker, she created a DIY pleated lampshade with a "grandmillennial" vibe.
Millholland's inspiration was twofold. First, she found herself staring at a lampshade that was looking dusty, dingy, and in need of a refresh. Second, a longtime fan of the pleated lampshade, she'd noticed this charming style popping up again — but with not-so-charming price tags. She knew she didn't have the sewing skills to tackle a true pleated lampshade, but she did have the creativity to devise a DIY workaround. 
Using just a glue gun, a thrifted cotton curtain panel, and a $5 bias tape maker, she carefully laid faux "pleats," or folds of fabric, around the diameter of a lampshade. She finished it by applying final "pleats" to both the top and bottom. It took only a few hours to complete and is an exact dupe for the actual pleated lampshades you'll find in every upscale home store.
If you're not quite sure what a bias tape maker is, here's the quick summary: It's a small gadget that can be used to finish fabric for piping, edges, and, yes, faux folded pleats. It takes a strip of fabric and neatly folds it over itself. Never used one? Don't worry; neither had Millholland. YouTube videos will help you master the process, and it's worth it for the crisp, consistent sizing and edges you'll get with each strip of fabric.
Millholland chose a vibrant orange fabric to bring color and pattern into her space, but any fabric design or pattern size will work. Because of the pleating, you won't see a clear repeat, so there's no need to line up the pattern from fold to fold.
She does advise DIYers to look for a lightweight fabric, which "are easiest because they move smoothly through the bias tape maker. The strips are also less bulky, particularly when you need to cover the top and bottom of the shade with the final strip." 
Looking back on her clever DIY, Millholland can't wait to try it again. "Pleated shades are expensive to buy — as they should be with all the handwork! But I wanted the look in my budget. This was the solution. I also love when I can reuse something instead of tossing it out, and this is a great way to save old lampshades."