A 117-Year-Old SF Apartment Houses Over 30 Vintage Lamps, 50 Plants, and A Lot of Style
We independently select these products—if you buy from one of our links, we may earn a commission. All prices were accurate at the time of publishing.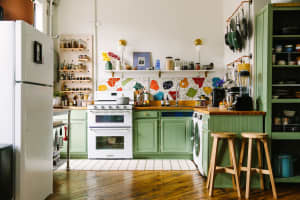 Can't-Miss House Tours Straight to Your Inbox
Keep up with our latest house tours each weekday with our House Tour of the Day newsletter
Name: Arif Johari, partner, two cats, and a dog
Location: San Francisco, California
Type of home: Apartment
Size: 1,800 square feet
Years lived in: 1 year, owned
Tell us a little (or a lot) about your home and the people who live there: I live in a 117-year-old Victorian in San Francisco in the iconic Haight-Ashbury district, made famous by the hippie movement in the 1960s. I work in tech as an instructional designer and have started taking on projects on the side as an interior designer. I live with my husband, Graham, our two cats, and a dog.
My home is my haven and oasis. When it comes to designing the space, it was very important for me that the house feels cozy and elegant, without being precious. All of our pets are allowed everywhere in the house, including the furniture. Since the pandemic, I started having clinical depression and anxiety, and I truly believe that my house saved me. It is my safe space, my source of inspiration and distraction, and it is now a large part of my persona. I love my house so much that I don't even look forward to vacations anymore! I much prefer being home, close to friends and family.
My style is eclectic maximalism with a touch of mid-century modern. For me, maximalism is about curating with bold design choices, having statement pieces, and layering collected objects. I want people to be wowed by every single vignette, and I want every room to have a different vibe. For example, my office is reminiscent of Santa Monica Proper Hotel with warm neutral tones and delicious textures. Meanwhile, my husband's office is an explosion of joy with its moody jungle vibes. When you move on to our primary bedroom, you'd be wowed by our nook, complete with a throne, that I designed for our dog.
A big part of my identity as a designer is to present a cozy and casual home — the kind of home where you can put your feet up on the coffee table and not use coasters on the dining table (gasp!). As part of that identity, it's very important for me that the "vibe" of the house is in alignment with my identity, and the way I do that is by taking into account our senses of touch, smell, and sight.
One example: I collect vintage blankets. I have about five blankets on my main sofa in the living room, and every chair in the house has its own blanket, too.
I try not to turn on overhead lighting when I don't need to, so we mostly only use ambient lighting. We have about 30 vintage lamps in the house currently. I've always lit candles for dinner and have scented ones on for a few hours every day. I also have a candlestick problem — there are about 100 of them scattered all over the house.
I love foraging fresh flowers or branches on my hikes and use them to sprinkle a touch of nature all over my house. I have about 50 indoor plants and I strongly believe that they add so much coziness visually.
All of the textures of my sofas are velvety soft and comfortable and are meant to be used well. I use art to add color and personality, and I'd even layer them on the floor to give off a more casual vibe. I'd even create my own art to give a more personal touch to my space.
I always turn the fireplace on, even when it's warm, because I believe it adds so much visual coziness.
I love having music constantly playing in the house, and I'd usually put on lo-fi, jazz, or Harry Styles (lol!).
Describe your home's style in 5 words or less: Eclectic, Maximalist, Cozy
What is your favorite room and why? My favorite room is my office because it is my own private sanctuary. I have some of my favorite vintage lamps there, like the Palm Tree floor lamp by Mario Lopez Torres, Serpente lamp by Martinelli Luce, and Mushroom lamps by Peill and Putzler. I also have a vintage credenza, which is my favorite piece of furniture in the house. The best part is that I got the credenza for free on Craigslist, and it's the first thing people notice and give compliments on. This room is also the only room in the house with a gallery wall, and honestly, I could stare at the gallery wall for hours! The best thing is my desk is facing the gallery wall, so I do get to stare at the gallery wall whenever I need a break from looking at my laptop. I also have a sofa that I got for free from Facebook Marketplace, and I love just chilling on the sofa, on my laptop, while my cat is cuddling with me.
Any advice for creating a home you love? Think about your senses when it comes to creating a vibe. Does the house smell good? Are the sofas and chairs comfy? Are the lights too bright? Are the vignettes visually cluttered? Is there noise pollution?
To add to the coziness, it's also important that the house maintains a sense of functionality. I've seen beds with 10 throw pillows that look amazing, but it doesn't invite you to use it to take naps or to chill on — you'd have to remove throw pillows and style them again once you've left your bed, which deters you from actually using your bed throughout the day. I've also been to houses with beautiful sofas, but the sofas are not comfortable or too formal.
Also, don't forget to edit and curate, even if you're a maximalist. Maximalism isn't about filling up every single inch of your space with stuff. It's about curating and displaying your collection for each piece to shine. It does mean having a lot of stuff, but having a lot of stuff doesn't have to equate to clutter.