These Witty Candles Are My Go-To Gift — and I'm Stocking Up Now
We independently select these products—if you buy from one of our links, we may earn a commission. All prices were accurate at the time of publishing.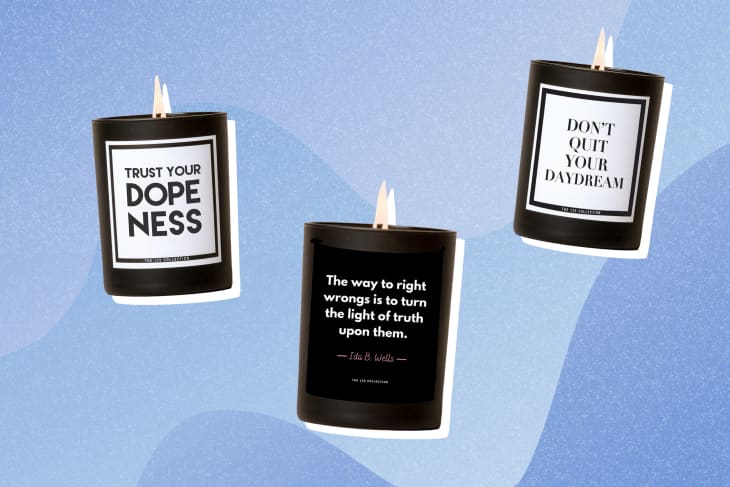 I've always had mixed feelings about giving candles as presents. On one hand, who doesn't want to receive something that makes their space feel (and smell) extra special? On the other, a candle can sometimes seem like the worst kind of generic gift that has zero to do with the person you're giving it to. And that's why I am obsessed with The 125 Collection, a Black-owned, women-owned brand of sumptuously scented candles emblazoned with messages that let your giftee know you chose something especially for them.
Follow Topics for more like this
Follow for more stories like this
What sets The 125 Collection apart from the rest of the crowded candle market is the "if you know, you know" approach. The first one I bought was a gift for a friend who was moving to New York after living here in Puerto Rico for 14 years. Anticipating she was going to be super homesick, I ordered her the "¡Wepa!" candle. That term doesn't exactly translate, but it's used to say hi, agree, express excitement, get the crowd going… the applications are endless (and awesome!). Each 125 Collection candle is available in five enticing aromas (Lavender & Sage, Metallic Rose, Spicy Blood Orange, Tobacco Flower + Vanilla, and Sparkling Birch), and I went with Spicy Blood Orange to keep with the tropical theme. When my friend made her way up to New York to start her new life, the ¡Wepa! candle was there waiting on her doorstep, a piece of home to fill her space with warmth and love — and a little bit of familiar Latin flavor.
Fast forward a few months: My boyfriend was stressing about work. As I listened to him wax on and on about Scenarios A through X — most of which would never happen and thus were definitely not worth worrying about — I remembered another candle I'd seen on The 125 Collection's website. I grabbed my phone and couldn't push "add to cart" fast enough. A few days later, his new "Hold On, I've Gotta Overthink About It" candle arrived. He let out a huge laugh and agreed that it seemed like it was made specifically for him. Now, whenever he starts to spin out of control, one of us reminds him to "light the candle," and he smiles and gets himself in check. Each 13.5-ounce candle has an 80-hour burn time, which is enough to keep even a worrier like him cool, calm, and collected for quite a while.