A Renter Outfitted a 1974 Time Capsule Home with Nods to Retrofuturism
We independently select these products—if you buy from one of our links, we may earn a commission. All prices were accurate at the time of publishing.
About this tour
Location
Seattle, Wallingford, Washington
Style
Eclectic, Mid-century Modern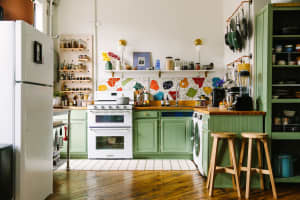 Can't-Miss House Tours Straight to Your Inbox
Keep up with our latest house tours each weekday with our House Tour of the Day newsletter
Lee Newman tells AT about the home they've been renting for two years: I live in a time capsule home built in 1974 and maintained by the original architect and his family. It was one of his first builds, and has some quirks (the windows all close using chain locks like you would see on doors, and one of the light switches is down near the floor). But it's also incredibly thoughtfully built, and features nice details including deep windowsills and a bulletin board concealing the circuit breaker. I can feel the personality radiating off it the whole way through.
The building is a duplex, and mine is the lower unit, which means it is partially sunken underground and has thick walls. I'm a political researcher and analyst who works from home, and because I'm relatively stationary I get to see how the home changes throughout the day: When does light reach certain windows? How does it retain heat? It has some engineering challenges, but it's beautiful.
I am a bit of a retrofuturist. I love mid-century and Space Age style, but I don't want it to be too rooted in historical trends. Putting together a home is like building a narrative, and you don't want to be so mired in making the details accurate that you forget to have fun. A lot of my pieces are vintage or secondhand, with many found incidentally.
My home is filled with color and visual interest. The space itself prompted me to lean into it — the bright red fireplace is the focal point of the living room, and begs for complementary pieces. I focused on rich greens with pops of retro yellows, oranges, and reds for contrast. I'm no minimalist, but I want an ergonomic, easy-to-use space, so when there's clutter it's calculated clutter.
Describe your home's style in 5 words or fewer: Colorful, retro, warm, thoughtful, idiosyncratic.
What is your favorite room and why? I love the living room. It's mostly open-plan and connects to the kitchen, but the platform for the fireplace breaks up the space really nicely. It's also my work area. My desk is next to sliding glass doors that look out onto the back patio, and all the urban wildlife comes through there. I get outdoor cats, birds, squirrels, and one time a whole family of raccoons.
What's the last thing you bought (or found!) for your home? I bought a vintage Yaffa organizer for my desk in bright yellow. I was previously using an ordinary gray organizer, but I wanted more color.
Any advice for creating a home you love? Don't be too formulaic and don't follow trends. Instead, work from memory, and focus on objects you've encountered that have made you feel at home. I got Cesca chairs for my kitchen table because my parents owned a set that I admired as a kid, and some of the bronze accessories are inspired by my grandparents' modernist apartment.
Some reproductions are great, but for certain items like dressers and rugs, vintage will always be higher quality.
Never buy art just to fill wall space. There are plenty of ways to fill space effectively, like hanging a decorative textile or acoustic tiles, but art should always make you feel something and should be personal. When it doesn't, it makes your home feel like the waiting room at the dentist.