A 'Tongue-in-Cheek' Style Studio Apartment Mixes Lowbrow and Highbrow in Only 220 Square Feet
We independently select these products—if you buy from one of our links, we may earn a commission. All prices were accurate at the time of publishing.
About this tour
Home Type
Studio Apartment
Location
Upper East Side, Manhattan, New York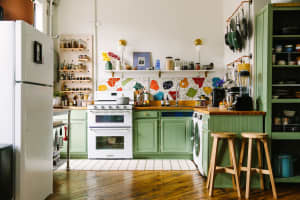 Can't-Miss House Tours Straight to Your Inbox
Keep up with our latest house tours each weekday with our House Tour of the Day newsletter
Name: Jamie Mandel
Location: Upper East Side — New York, New York
Type of home: Studio apartment
Size: 220 square feet
Years lived in: 2 years, renting
Tell us a little (or a lot) about your home and the people who live there: Living in a studio means that I see everything all the time, so I really need to like everything that's there. My love for pre-loved and handmade pieces comes from a small collection I am lucky enough to have from my grandparents — things from their homes I grew up with. I am drawn to things in those two categories, or a very special third category: I get weak in the knees for cheap, quotidian plastic from foreign countries (miniature dish brushes from Mexico, a fly swatter from Italy — you know, things I generally can't imagine my life without). It's ridiculous, but it doesn't take much.
My apartment is small, so I had a few things custom made to make it functional and aesthetically pleasing. Not a kitchen drawer to be had, so my plywood prep station (designed and fabricated by Sarah Burns) includes a utensil trough. I made the corduroy curtain covering the bottom space inspired by Bode, inspired by vintage senior corduroys. My chairs are another great made-for-me item, by my friend Mario Mohan of Afoam.
There's also no piece of hardware to fixate on, so I replaced the landlord-selected glossy silver pulls on my cabinets with custom African mahogany. All light switches have been accessorized too. It's jewelry for the home and it makes me very happy!
But everything I own tends to be on the chopping block, with a few exceptions. I'm as far from Marie Kondo as it gets, but the moment a piece doesn't spark joy, it has to go. Immediately. (I try to resell or re-home everything instead of trashing it.)
I don't subscribe to color coordination or themes. If I gravitate towards it, then it will fit within the larger whole. It always does. I like when things I collect are functional (my miniature coffin sculpture from Paa Joe in the shape of a wheat sack by my front door opens to hold my sunglasses), and things I generally don't have to be too precious with. I'm definitely a collector, my space is absolutely curated, but if I feel too nervous about a piece then I usually end up selling it.
Describe your home's style in 5 words or fewer: Tongue-in-cheek, lowbrow/highbrow.
What's the last thing you bought (or found!) for your home? I bought an antique fabric panel to create a divide in the doorless doorframe between my main space and my little dresser/closet nook where my bathroom is as well. They're neutral-ish in cream and black, but bold and floral. I think it's perfect!
Any advice for creating a home you love? I love to rethink what makes for great art around my home. I have framed samples of wallpaper I love over my bed and elsewhere, which is one of my favorite ways to decorate in a noncommittal way.
I have a mix of photographs I've taken on my travels with the rest of my art as well, so that tends to rotate based on where I've been most recently.