This Intricate Tiny House is Made of Cake and It Supports a Good Cause
We independently select these products—if you buy from one of our links, we may earn a commission. All prices were accurate at the time of publishing.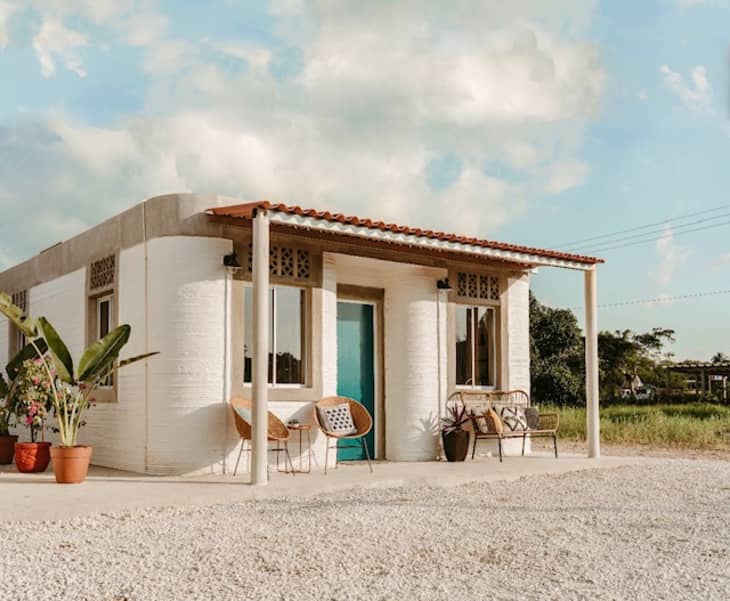 Many organizations are stepping up to help the homeless through building alternative living options, from temporary shelters to tiny apartments. But one Atlanta local is creating a home with nontraditional mediums to raise awareness for the worldwide epidemic—flour, sugar, and eggs. 
Follow Topics for more like this
Follow for more stories like this
Erin Schieber is a self-taught baker who runs a small cake business on Instagram called eNoel Cake Co., and she was recently asked to create a "concrete" cake house for a meaningful cause. Her friend works at a nonprofit called New Story Charity, which has been working to create solutions to end global homelessness since 2014. Their latest endeavor is to create a 3D printed community for 50 families in Tabasco, Mexico, and Schieber was commissioned to make a house cake identical to these future homes. 
She was happy to take the project on for such a meaningful cause—plus she had a love for interior design that she was able to channel—but there was only one problem: Schieber had never made a novelty cake before. "It was the first time I had carved a cake, so I had to buy new pans because typically I have only done round cakes, this one being more of a square," Schieber told Apartment Therapy. "There will hours put into actually mapping it because the whole cake was a domino affect, you can't just make a doormat when you don't know what size the door is going to be, and you can't make the door yet when you don't know what size the home is going to be. Since it's a home, really everything had to be somewhat to scale."
Schieber started the project on a Saturday and didn't finish the entire thing until Wednesday, breaking days out into different tasks. "I had several days in hand making all the elements of the home, and then I usually have a bake day when I'm actually making the cakes, then make the buttercream, then a separate day when I stack and fill the cake, then a separate day when I actually put the decor on it," described Schieber. She spent hours mapping out a top down of the size of the cake alone, accumulating 43 hours of work over the time that she started and when she finished. 
The charity sent over photos of the 3D printed homes for Schieber to work off of, which showcased intricate details like terracotta planters, porch chairs, and a bright orange awning that she executed. But one of Schieber's all-time favorite elements is one that's hidden in the back: a bucket of water in the back with water spilling over the top.
"I try to make my cakes decorative from all angles because you never know how they're going to be displayed," said Schieber. "I loved having those little features that others may overlook. When I delivered it and one of the folks asked what the story [with the water bucket], I said there wasn't really one—it's one of those details that makes a house a home. It shows that there's life in the home, especially for a family who's never had a home before." 
When the finished product, Schieber got to personally deliver it.  "I got to see two of the folks reactions to it, which is always a special thing for me to see and means a lot," recalled Schieber. "This was a special cake for so many reasons, and it was just rewarding in ways I didn't really expect."