The 5-Minute Trick to Making a Bedroom Look Cleaner, According to a Home Stagers and Designers
We
independently
select these products—if you buy from one of our links, we may earn a commission. All prices were accurate at the time of publishing.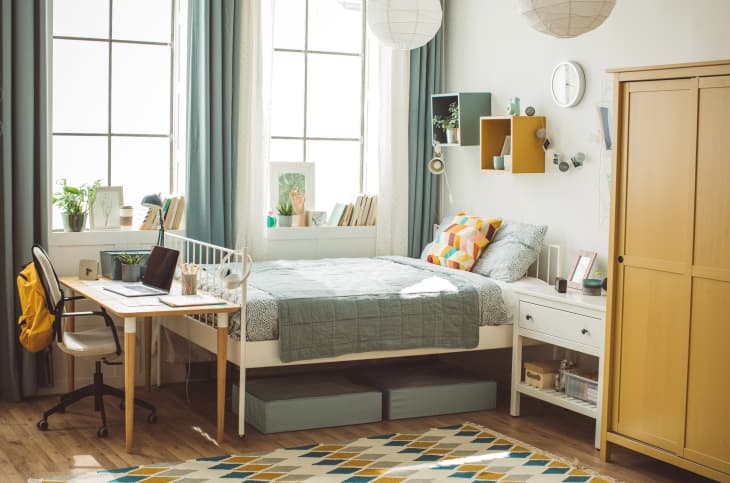 One of the trickiest things about selling a home isn't all the paperwork that comes with the transaction — it's figuring out a way to keep your place neat and tidy all the time for when potential buyers drop by. 
Of course, if you're an A-list celebrity who can simply move into another palatial property when another one is on the market, you can skip this article and go about your day. But if you're like the majority of people who will be living in their home until it's sold, you'll want some tips on how to keep it clean and organized for when your real estate agent calls to arrange a showing.
I checked in with a couple of real estate and home design pros who know a thing or two about staging homes. I asked them to share their best hack for tidying up a bedroom if all you've got is five minutes to spare. It's so simple, but it will really make a difference: Make your bed.
Think this is a no-brainer if you're selling your home? Then you haven't spent enough time scrolling through online real estate listings to see bedrooms that look like a tornado swept through.
"A neatly-made bed can greatly enhance the overall look of a room by creating a focal point, giving the room a sense of organization, and making it look more inviting," says Artem Kropovinsky, interior designer and founder of Arsight, an interior design studio based in New York City. "It sets a positive tone for the entire space and shows potential buyers that the property is well-maintained. Additionally, it also adds a touch of coziness and warmth to the room, making it feel like a place where one can rest and relax," he says.
Leigh Spicher, interior designer and national director of design studios for Ashton Woods Homes, agrees, though she recommends doing more than just pulling up the comforter or duvet. 
"Get those hospital corners right," Spicher says. "Bed linens can get messy quick, but the tried-and-true method of tucking the bed linen corners in works to instantly clean up the room." If you've got a neutral cover on the bed, arrange a colorful throw blanket or pillow to give your room a fresh look, she says.
After the bed is made, open up your blinds or curtains. "Natural light always makes a space feel more welcoming," Spicher says. If your windows are looking a bit dingy and you do have a few extra minutes, spritz some vinegar and lemon juice and wipe them down. "Sparkling windows clean windows and the smell of fresh citrus will make the space not only look clean but smell clean too."
Once the bed is looking tidy and the sunlight is streaming in, Kropovinsky says to pick up any shoes or other items lying on the floor and put them away. Got any clothes hanging out of closets or drawers? Tidy up those spots, too, and try not to leave out any unnecessary items on the top of your bureau or dresser, he says.
Next, focus your attention on your nightstand or bedside table, if you have one. Spicher says to clear the clutter, like headphones, alarms, and especially any tissues or medications. Got a stack of books by your bed? That's fine, but make sure they're facing the same direction, says Spicher.
"Be careful not to remove everything," she says. "After all, a home should have life in it. Just keep it tidy."