A 500-Square-Foot, $1900-per-Month Astoria Rental Got a Grown-Up Glow Up
We
independently
select these products—if you buy from one of our links, we may earn a commission. All prices were accurate at the time of publishing.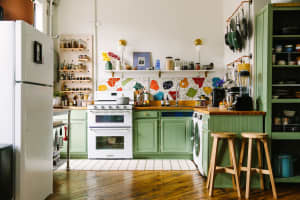 Can't-Miss House Tours Straight to Your Inbox
Keep up with our latest house tours each weekday with our House Tour of the Day newsletter
Dave Conte has been renting this Astoria rental apartment for 13 years, and currently pays $1900 a month in rent. He gave his home a makeover that cost $4500 and took three months: My little rented slice of Astoria has been the place I call home for many years now. Originally I shared it with a roommate, when it was a two-bedroom layout. Since then, I've been here on my own for over 11 of the 13 total years I've been here. For most of that time, one of my best friends lived upstairs on the third floor. This place served as a nexus point for my friends and family to gather, and even with many of them now living out of state, it still serves as a home base for people coming to visit. I love being able to host people, whether it's for a party or an extended stay.
Over the last few years, my place had started feeling stale. I'm 38 now, and it still felt like a 25-year-old kid's place. The walls were covered with framed posters, which I couldn't really move around due to the buildup of dirt around them after hanging there for many years. I knew that if I were to do any sort of painting or remodeling, it would require a complete top-to-bottom makeover. Working from home accelerated my desire to make this place feel like a more appropriate home for me.
My partner — whose place was an inspiration for me — helped me with much of this redesign. She was more or less my producer, and I sought her approval before pulling the trigger on anything. I'd say about 30% of my decisions I got right the first time, and the other 70% she steered me in a better direction. She came up with a lot of my favorite ideas for the makeover, such as the bistro chairs in the kitchen, and treating "the nook" as a zone worthy of love, adding shelves, and giving it some bold color.
After months of work, it finally feels like *me* after years of starting to feel like a stranger in my own home. I'm so proud of how it turned out, and I'm still not entirely finished yet. There are still a few walls that I may adorn with some art, and I have some ideas for the living room closet, but for now, the space is looking better than I could have ever dreamed!
I've been a creative person my whole life, from graphic design in my early years, to filmmaking and video editing throughout my adult life. I'm a sucker for the arts, and my home reflects my love of film, animation, music, and video games. Between the gallery wall of posters, a lifetime of collected media in the form of DVDs, CDs, and records, and the multitude of trinkets scattered around, I display my personality in every room in the house. I also come from a creative family, and have various pieces around the house from my mom, aunt, and sister.
Describe your home's style in 5 words or fewer: Colorful, cozy, efficient, inviting, personal.
What is your favorite room and why? My living room is probably my favorite upgrade. Previously, the DVDs were on a bookcase, and the record shelf was against the south wall instead of in the bedroom. Moving the records out to the bedroom, and the DVDs up along the ceiling, opened the room up tremendously. The addition of the chair in the corner, and the versatility of the ottoman, makes this a way more conversational space than it was. Not to mention the incredible color on the walls! The layout didn't change here, but the vibe of the room is completely different.
What's the last thing you bought (or found!) for your home? The pièce de résistance in my living room is the chair I found at Remix Market NYC — a perfect fit in the corner under the lamp and A24 poster. I've dubbed that part of the room The King's Corner.
Any advice for creating a home you love? It's easier to finish the job once you've started it. Taking that first step can be daunting — I probably spent almost a year plotting and scheming before the first drop of paint was spilled — but once you take it, you won't want to stop until the whole place feels refreshed.