With a Little Design Magic, This Photographer Turned Her One-Bedroom Rental into Two
We
independently
select these products—if you buy from one of our links, we may earn a commission. All prices were accurate at the time of publishing.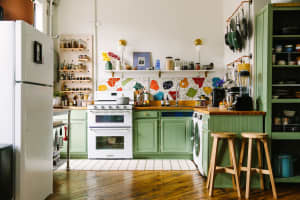 Can't-Miss House Tours Straight to Your Inbox
Keep up with our latest house tours each weekday with our House Tour of the Day newsletter
Name: Breeana Dunbar and my 7-year-old son Ari, who spends part of his time with his dad as well.
Location: Brunswick East — Melbourne, Australia
Type of home: One-bedroom apartment
Size: 540 square feet
Years lived in: 2.5 years, renting
Tell us a little (or a lot) about your home and the people who live there: I live here with my son, Ari (7). We've lived here since Ari's dad and I separated about two and a half years ago (he actually lives in the same building as us, which makes sharing custody a breeze). My apartment was featured on Apartment Therapy just after I moved in here two years ago, but lots of things have changed recently so I thought I would submit it again! The apartment is a one-bedroom, so Ari and I have been co-sleeping for a couple of years. I have honestly loved co-sleeping with him, but my one tip for that is to get a long thin pillow to put down the middle of the bed, otherwise you will be rolled on to and woken up with kicks all night! Ari has just turned 7 so I was planning that we would move out to a two-bedroom, then Covid happened.
I'm a photographer who works with people primarily, so I've basically not worked for six months. Moving out wasn't an option anymore so I had to make the one-bedroom work for us for a bit longer. I wanted to give Ari his own little space, so I reimagined my (relatively large) open plan living area as though it were a studio apartment. I repurposed or sold some furniture (extra armchairs that I really never used for example) and downsized a few other (I sadly parted with my large dining table and replaced it with a smaller round one. We really just didn't need a dining table that sat six people when at most it was Ari and me, or a couple of friends if we were having people over. I also replaced a large coffee table; again, it was more coffee table than we actually needed and was in the way of Ari's play area).
In the corner that I now had free, I bought a single canopy bed and ordered some nice, custom linen curtains from Not Perfect Linen on Etsy to put around the bed. I sold it to Ari as a 'cubby house bed' and he pretty much thinks it's the best thing since sliced bread. Because the bed is essentially in the middle of my living area, I made sure the bed frame, curtains, and bed linen looked "nice" and didn't look out of place in my house. I also bought a bed skirt so that Ari could hide away all his toys when not in use. After living like this for a while (with the bed in the living area), I really think it's a great solution for our particular situation and now I'll save my money and not move into a two-bedroom. In the future I've decided I'll give Ari the bedroom, and in the living room I'll get a good-looking, single bed-size daybed, style it up as a couch during the day, and use it as my bed at night, maybe with a track curtain on the ceiling that I can pull across. I love finding ways to live smaller!
The other change that has happened is that I've decided to do more shoots inside my apartment post-Covid. So I've had to think about ways to make it easy to rearrange my space to quickly give me a photography studio setup (I have a slimline photography background system that I keep under my bed, and I put it all up against the wall behind the dining table, which is easy to move around). I've also tried to think about ways to make my apartment look nice and be comfortable for clients coming in, so just hiding all the "ugly" personal things (I put up a curtain to hide my washing machine and laundry drying racks, for example), and getting rid of clutter and so on.
Describe your home's style in 5 words or less: Electric hygge.
What is your favorite room and why? Don't have many rooms in my home! I love all three of them but I guess my open-plan living area would have to be my favourite. I ask a lot of it! It has to be a kitchen and dining space, lounging and living area, Ari's "bedroom" and play area, my home office, and now my studio when I welcome clients. And it does it all no problem.
What's the last thing you bought (or found!) for your home? An 80-year-old milking stool from Fossil Vintage, which I use as a slim coffee table for my balcony.
Any advice for creating a home you love? I have so much advice, but here's three of my best pieces of advice. Hide the ugly stuff. Nobody wants to see your bin. Not even your expensive "stylish" bin. Find a way to hide it away; if I can do it in my one-bedroom apartment so can you. Same goes for toilet paper, ugly cleaning supplies, washing machines, drying laundry racks, and so on. If you have to have something out, put it in something nice. For example, I put my dishwashing liquid in a vintage bottle.
Don't buy mass produced art. There's no meaning in that whatsoever, even if you "like" it. You could do an entire gallery wall with vintage oil paintings from eBay for very cheap, and no one would have one that looked anything like yours. I have a saved search in eBay for "original oil painting under $40" and I don't have enough wall space for all the cool original art that comes up. As well as vintage art, there are also so many other meaningful things that can be framed and put on your wall. Vintage posters, vintage postcards, even other people's vintage photographs (check eBay!), children's drawings, old letters, iPhone photos blown up really big. So many things!
Think about how you really use your space, because you might not need all of it. There's nothing in my house that isn't used frequently. When I redecorated recently, I sold larger pieces of furniture that weren't being used frequently and replaced them with smaller, more functional ones. It's made the place feel much more spacious.
This submission's responses were edited for length and clarity.