6 Moving Essentials That You'll Keep Using
We independently select these products—if you buy from one of our links, we may earn a commission. All prices were accurate at the time of publishing.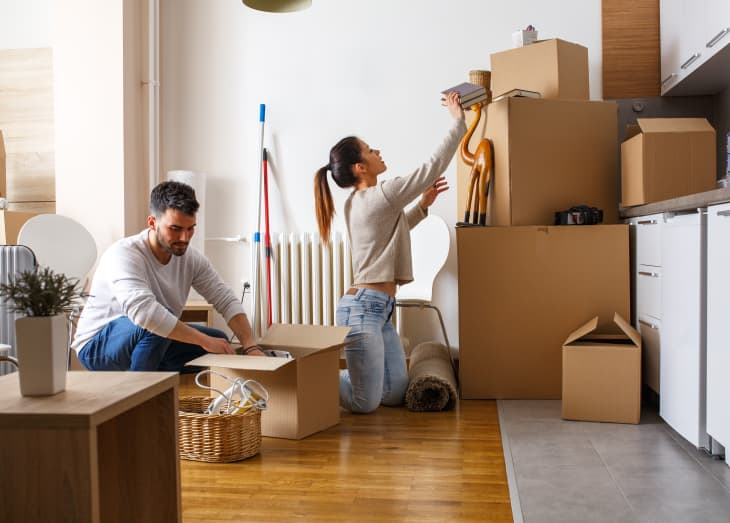 It's no secret that packing everything up and moving is both exciting (a new space! A new home!) and a true nightmare. (Seriously, how do you accumulate so much stuff in one household?) But while packing up boxes isn't the most fun thing in the world, there are some silver linings. For one, you'll get to KonMari the heck out of your place. Two… okay that's basically the only silver lining.
But before you commit yourself to living the most minimalistic lifestyle ever and chuck everything you've ever owned because packing is the worst, save yourself some headache and pick up these moving essentials that, yes, you'll use even after you get to your new space. Because nothing's worse than buying "essentials" that aren't essential at all. Then remember—one box at a time. You got this.
You'll use it to unpack, you'll use it to make makeshift handles in boxes, you'll use it to create super clean lines when painting (by cutting the painter's tape away from the wall), you'll use it to help with removable wallpaper…. and so on. Hey, it's called a utility knife for a reason.
I know what you're thinking—duh. But there's nothing worse than starting to pack and realizing you have nothing to identify your boxes with other than a pen that's running out of ink. Make sure to get a permanent marker that dries quickly and is waterproof so the writing won't smudge—we love these Sharpie Extreme ones.
You get in your new place and what's the first thing that happens? Something new needs assembly. Skip having to run to the store, using makeshift "screwdrivers," or having to dig your random tools out by having a kit you can keep out and with you on the move. (This one's a bestseller for a reason—it's good and inexpensive.)
Use them to help movers (or yourself!) know what rooms or areas to put your boxes in—green for kitchenwares, blue for living room, etc. Then use the labels for organizing your new closet (you swore to yourself to do it this time!), cleaning supplies, leaving cute notes in your kids' lunchboxes… you get the gist.
No, not just tape. A dispenser. If you're packing multiple boxes, a tape dispenser will change your life—and you'll never go back to finding the end of the tape every single time again.