7 Lessons I've Learned After Renting My Whole Adult Life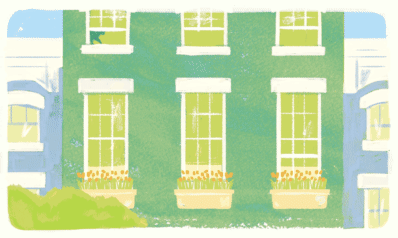 (Image credit: Meryl Rowin)
OK, so maybe I haven't been renting for my whole adult life... yet. But in the 10ish years since I first became an official leaseholder, I've moved 13 times, lived in 11 different rentals, and have been to more open houses than I can count. So, older and hopefully wiser, here are the seven things I wish I had known before signing my first lease.
1. Visit at different times of day
If you do one thing, do this. On my first night in what I thought was my West Village dream apartment, I learned that living next to a PATH train station was the post-college equivalent of living next to a frat house. Except instead of 20 rowdy drunk kids I was suddenly neighbors with thousands of rowdy drunk kids. If at all possible, visit your prospective new place morning and night to make sure it's right.
(Image credit: Meryl Rowin)
2. Always ask what utilities are included
And budget accordingly. Case in point: The first time I moved from a building with central A/C to an apartment with window units I thought it was normal to leave them on 24/7. By July my electric bill was higher than most people's mortgage payments. A good property manager or landlord will be upfront about utility costs and can give you an idea of what your monthly payment will be.
(Image credit: Meryl Rowin)
3. Know the perks
When I moved from Manhattan to Miami Beach, I fell in love with a nice little studio with a view but felt I was being really indulgent in paying $100 more for all the building's perks: "I don't need a pool, I'm a New Yorker!" After spending five minutes on a chaise lounge one sunny Saturday, it was clear I'd made the right decision. Keep an eye out for buildings with nice perks that either improve quality of life — a dog park, for example — or will even save money in the long run on gym memberships, entertainment, and the like.
(Image credit: Meryl Rowin)
4. Ask about customization
Sometimes, a place doesn't need much more than a little upgrade to feel a lot more comfy: a lick of paint, a new appliance. The brief period between viewing and signing anything is your courting period for the management company to make the little tweaks it takes to land a good tenant such as yourself.
(Image credit: Meryl Rowin)
5. Check the connection
Cell and WiFi reception is everything. Call your mom from any new place you're considering (trust me, she'll love it) to test out cell reception. If WiFi is included in the rent, ask to connect to the network and use a speed test app to measure the strength and speed of the connection.
(Image credit: Meryl Rowin)
6. Know thy neighborhood
If I'm scheduling a day of open houses, I always give myself at least an extra 15 minutes in between each one to take a walk around the neighborhood. Often you'll find that the local vibe counts for as much as your new space itself. Also, time is money. Choosing a slightly pricier apartment that cuts your commute in half might be worth it.
(Image credit: Meryl Rowin)
7. Listen to noise levels
Close your eyes and just hang out for a minute. (Your property manager might think you're a little crazy — or maybe just that you've done this before.) Take mental notes of every noise you hear. Elevator shaft? Street noise? On-ramp? Bus stop? Toilet flushes? Neighbor DJs? Now open the windows and do it again. Are these noises you can live with, or are they deal-breakers?
Check out ForRent.com for more help finding (and loving) your next place.

This post is sponsored by ForRent.com and was created by Apartment Therapy's Creative Studio.
Thank you for supporting the brands that make Apartment Therapy possible.